Each week Bristol Business News gives a prominent member of the city's business community the last word on its weekly e-bulletin. This week Fiona O'Kane, a partner and head of international law firm Womble Bond Dickinson's Bristol office, answers our 10 questions.
What was the LAST: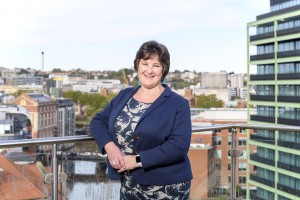 Film you watched: The Banshees of Inisherin. Bleak, but the acting well and truly worthy of the awards
Book you read: The Seven Moons of Maali Almeida. Thought-provoking story concept and I learnt a lot about Sri Lankan history.
Music you bought/downloaded: I can't remember. My music freedom is shaped by my family these days!
Concert or play you went to see: Hamlet at the Old Vic. Intense.
Sporting event you attended: Bristol Bears v Leicester tigers – an exciting 26-26 draw.
Holiday you went on: Portugal/Spain – a long weekend in October. I fitted in a cultural day in Seville and a round of golf!
Restaurant you ate in: Cow & Sow – I had fish!
Thing that annoyed you: Pointless emails annoy me all the time. Is it just me?
Thing that made you laugh out loud: Last weekend, reminiscing wilder days with some old friends… for hours.
Piece of good advice you were given: Be curious, be kind and be fair – from my dad.
Fiona O'Kane is a partner at international law firm Womble Bond Dickinson and head of its Bristol office. She has been with the firm for more than 20 years. She was born in London and had a fairly peripatetic childhood with spells growing up in Durham, Glasgow, Botswana, Oxfordshire and Birmingham before settling in Bristol. She keeps out of trouble at weekends and, as an antidote to the sit-down working week, enjoys a variety of walking the dog, gardening, yoga to recover from the gardening, outdoor (but not very wild) swimming, skiing when there is snow and reading.