Each week Bristol Business News gives a prominent member of the city's business community the last word on its weekly e-bulletin.
This week Catrin MacDonnell, founder of caterer, deli and cafe Papadeli and leadership and business coach, answers our 10 questions.
What was the LAST: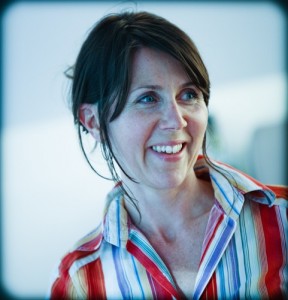 Film you watched? Inside out, an animation from Pixar – with my boys Tomos and Sam and my mother-in-law Ann. It amused, fascinated and brought a tear to our eyes – so beautifully imaginative – just lovely. I recommend everyone go see it whatever your age and take some tissues!
Book you read? The Miniaturist – totally absorbing. I found myself going to bed early to read it, which is rare.
Music you bought/downloaded? I saw Ella Eyre at Camp Bestival and absolutely loved her – such an energetic performer she was spell binding – love Changing.
Concert or play you went to? We're so lucky in Bristol to have the Old Vic and Tobacco Factory – I haven't been for a bit but loved 101 Dalmations and Blood Song – one hilarious, one an emotional roller coaster.  More tissues needed! I'm hoping to go and see Life Raft at the Old Vic in September.
Sporting event you attended? Hmm, sport…. does yoga count? I love yoga and went to "yoga for a peaceful mind" with my son at Camp Bestival – the peaceful mind lasted…. a few hours. Loved it though. I'm not a great sports spectator – you're more likely to find me wondering around an exhibition at the RWA!
Holiday you went on? Holidays are usually an excuse to eat (even more than usual). We went to Cardigan Bay in July and absolutely loved Fforest Pizza – proper wood ovens, outside on the river bank – just lovely.  We're off to the Douro Valley in Portugal soon so that'll be all about custard tarts, fish stews and port. Simon relaxes by scouring markets and creating amazing meals. I'll be the kitchen porter. We're alway looking for inspiration for the deli so we'll come back with lots of ideas.
Restaurant you ate in? Bristol is a superb city for eating out – there is so much choice, so many independent businesses, such a wealth of produce. We love St Nick's market – it can compete with any city. I went to Lisbon recently and visited their food market which was amazing but St Nick's has the edge on originality and the unbelievable variety. If I want to eat out with family, I'd choose somewhere like the new and funky Pizza Workshop, Bosco or Souk Kitchen. If Simon and I go out, we love Wallfish.
Thing that annoyed you? Seeing people wasting food. It's too easy to buy lots of food, buy one get one free etc and then find it's all gone bad at the bottom of the fridge. I try to buy locally as much as possible and for only a day or two so that we eat what we buy. Everyone at Papadeli is very into making sure as little food is wasted as possible – it does make economic sense as well as as it being common sense.
Thing that made you laugh out loud? A parents against kids football match recently. I could hardly kick the ball for laughing and watching the referee reprimand some over-zealous tackling coming from the parents. Our goalie did a brilliant job of balancing a glass of red whilst letting the goals in.
Piece of good advice you were given? Always hunt the good stuff. I learnt about it on a course in Positive Psychology – by focusing on finding the good in people and situations, everything always feels better.
Catrin MacDonnell set up Papadeli with her husband Simon 15 years ago.  It started as a deli on Alma Road, Clifton, and now has a cafe at the Royal Academy of the West of England (RWA), a cookery school and a growing wedding and corporate catering service. Catrin divides her time doing the marketing for Papadeli and as a leadership and business coach.