Each week Bristol Business News gives a prominent member of the city's business community the last word on its weekly e-bulletin. This week Bryony Morgan, founder of Made in Bristol, answers our 10 questions.
What was the LAST: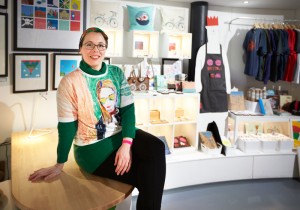 Film you watched? Waterworld – because it's the greatest.

Book you read? Donna Tartt's The Goldfinch (again!) It's so much more than a heist. I love to re-read books I love when I am really busy. I find it meditative. 

Music you bought? Submotion Orchestra as I saw them play at the Freshers Fair at the music college where I lecture (on an Event Management degree).
Concert or play you went to? Twelfth Night at The Old Vic. It was amazing. Loved the music!

Sporting event you attended? Does going to Yoga count? Watching sport is not really my thing.

Holiday you went on? We popped over to Amsterdam for a friend's 40th birthday – one of my favourite cities. I just love the canals. 

Restaurant you ate in? My partner, Joe from Source Food Hall & Cafe in St Nicholas Market, and I recently enjoyed a very memorable evening at Wilks for a very special birthday.

Thing that annoyed you? The buses! Fares went up the same week as cuts were implemented to the service where I live south of the river. Not good! We will all need to make adjustments to the way we move around the city at some point and I believe we need to find more efficient ways to use the existing transport networks (rail and road). A car-free centre with a publicly-owned, subsidised bus service would get my vote!

Thing that made you laugh out loud? My two year old reinventing the knock-knock joke.

Piece of good advice you were given? Stop, collaborate and listen (thanks Vanilla Ice!)

Bryony Morgan founded Made in Bristol in 2008 in response to the lack of events showcasing designer-makers in the city. Ten years on she has curated and managed a series of pop-up shops across the city and is returning with to Colston Hall with her Made in Bristol Gift Fair on November 24 & 25 and Saturdays December 1 and 8. The Gift Fairs present hundreds of locally made artisan products, celebrate local creativity and provide the perfect opportunity to start Christmas preparations. www.madeinbristolgiftfair.co.uk