Each week Bristol Business News gives a prominent member of the city's business community the last word on its weekly e-bulletin.
This week Amanda Kerin, founder of Inspiring Women Live!, answers our 10 questions.
What was the LAST: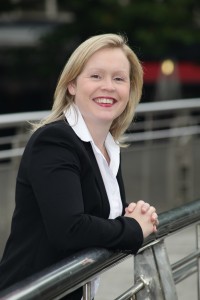 Film you watched? Eat, Pray, Love. I'm working on my trip to Bali but for now this will have to do.
Book you read? I always have a pile of books on the go and tend to dip into whichever one suits my mood at the time. Books I've recently finished are Alan Sugar's What You See Is What You Get, Arianna Huffington's Thrive, Danielle LePorte's The Desire Map, Brad Burton's Life. Business. Just Got Easier and Jennifer Saunders' Bonkers.
Music you bought/downloaded? London Grammar – If You Wait. I like to think my time as a radio producer has given me an ear for spotting a great band.
Concert or play you went to? George Ezra at The Exchange back in the Summer – he was amazing. Next on the cards is Erasure.
Sporting event you attended? I worked at the Twickenham Internationals in the summer but the Bristol Park and Slide was hard to beat.
Holiday you went on? A week in North Wales – breath-taking scenery and I even managed to track down some Thatcher's Gold in Conwy.
Restaurant you ate in? Banco Lounge – no fuss, no frills but good food and great company.
Thing that annoyed you? Queue-jumpers. Queuing is a Great British institution and people should respect it.
Thing that made you laugh out loud? Gogglebox normally raises a chuckle and a post-weekend catch-up with any of my friends is guaranteed to provide some laughs.
Piece of good advice you were given? If in doubt, go without. This has always served me well.
Amanda Kerin is the Founder of Inspiring Women LIVE!, a unique series of bi-monthly Bristol events, designed to enhance the professional and personal development of working women from every field of business. An award-winning Event Manager, Amanda lives in Old Market and also runs her own events company AJK Events, as well as social media connection movement Tweet Up Bristol. The next Inspiring Women LIVE! event takes place on Thursday 13th November 2014 at The Pavilion, Hannover Quay, Bristol BS1 5JE. For more information visit www.inspiringwomenlive.co.uk.