Each week Bristol Business News gives a prominent member of the city's business community the last word on its weekly e-bulletin. This week Alan Bristow, CEO and founder of ICON Corporate Finance, answers our 10 questions.
What was the LAST: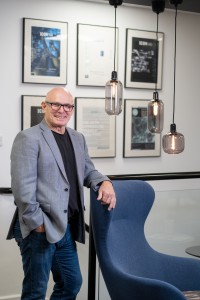 Film you watched? The Alpinist. I would never have come across this had it not been for a long-haul flight. This is a phenomenal film about a quest for adventure, telling the story of young solo climber Marc-Andre Leclerc – passion at the extreme!
Book you read? John Grisham's Judge's List. Easy reading and makes lawyers seem far more exciting than investment bankers.
Music you bought/downloaded: Mandolin Orange – who've actually recently changed their name to Watchhouse. They're an emotive Americana duo original from the Carolinas – Northern Carolina – gotta love a bit of country!
Concert or play you went to? Cabaret at the Kit Kat Club. A fabulous and intimate West End production of a classic Go see it.
Sporting event you attended? Bath Rugby – another tough season ahead!
Holiday you went on? Melbourne, Australia. Actually, this is more of a second home than a holiday destination. I've been coming and going since my travels as a student.
Restaurant you ate in? Cow & Sow, Bristol – with the ICON team. Very handy and always great food and service.
Thing that annoyed you? All call centres.
Thing that made you laugh out loud? Weekends with the family.
Piece of good advice you were given? Kindness is the highest form of wisdom.
Alan Bristow founded ICON in 1999 to provide international M&A and fundraising expertise to technology companies. Advising clients on matters including M&A, growth capital raises and strategic alliances, the Bristol, London and San Francisco-based firm has closed more than 250 transactions across the globe. With access to the most relevant investors, buyers and strategic partners, ICON's sector expertise includes fintech, cyber, ai, healthtech, digital media, enablingtech, enterprise software and managed services.