Each week Bristol Business News gives a prominent member of the city's business community the last word on its weekly e-bulletin. This week Aaron Dewey, a partner at bespoke furniture maker Modern Wire, answers our 10 questions
What was the LAST: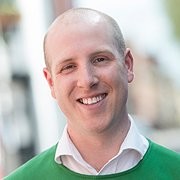 Film you watched? Show Dogs with my daughters.  Fortunately, my youngest was restless and wanted to leave half way through so we had to sneak out!
Book you read? Some Fantastic Place by Squeeze lyricist and co-founder Chris Difford. I'm a bit of sucker for rock autobiographies. This book addresses familiar addictions but oozes humour and perfectly captures the sights and sounds of his childhood/adolescence and the band's career. His knack of describing everyday life in his lyrics and the imagery he creates makes for wonderful storytelling. I couldn't put it down.
Music you bought/downloaded? All Melody by Nils Frahm. Stunning! No further explanation required.
Concert or play you went to? Field Music played at The Lantern back in March. Their gigs are always heart-warming and full of humour but particularly that night their musicianship and sound were perfection – six-part harmonies at times, backed with a seamless blend of acoustic/electronic instruments, amazing dynamics and, man, were they ridiculously tight!
Sporting event you attended? I don't often attend sporting events though I watch a fair amount on TV. I enjoyed England's recent World Cup run. School sports day aside (which was great), the last sporting event I attended was England v West Indies ODI at The Rose Bowl, Southampton, in September last year. We hoped the game would be the series decider when booking tickets. England won but sadly the West Indies looked as though they were already on the plane, having lost the series in the previous match.
Holiday you went on? Extended family holiday to Majorca a couple of months ago to celebrate my Mum's 70th birthday. It was so nice to have a long amount of time catching up and hanging out altogether. By pure coincidence we also met up with a close friend of mine and his family from Bristol.
Restaurant you ate in? Asado. The best burger, fries and mayo I've ever eaten bar none! Their ingredients taste so fresh and it's all cooked using charcoal and oak logs. They're also very friendly people.
Thing that annoyed you? Hmm, can't think of the last time but the one constant is drivers who don't acknowledge when you've given them way. I frequently give way, so you could say the potential to be annoyed is always fairly high. Fortunately, most drivers especially in Bristol smile and wave.
Thing that made you laugh out loud? I watched Stewart Lee's recent Content Provider on BBC iPlayer. Incredible! I've loved him since his Comedy Vehicle series. The way he dissects his craft and his self awareness is unlike any other stand up that I've witnessed. He's well known for continually analysing audience response whilst critiquing his own performance. His frequent digressions appear to be wild tangents but he's always masterfully in control. When he does improvise, it's sharp and hilarious. The man is simply a genius.
Piece of good advice you were given?
"The best advice I can give you is…don't listen to all the advice" – from a friend offering an insight on my impending parenthood.
Aaron Dewey is a partner at Modern Wire Ltd, recently appointed in July 2018. Modern Wire specialises in making minimal, modernist bespoke furniture for commercial and domestic settings. Having launched the 'Totem' in the Summer, Modern Wire are now prototyping some new and interesting products for Autumn 2018. For the past nineteen years, Aaron has worked for design agencies and small enterprises in Bristol. Living and now working in BS3, he is passionate and excited to be involved with a local business "where creativity is so prominent and informs virtually every decision Modern Wire makes. The journey here has been worth the wait."