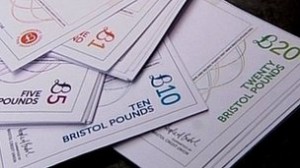 Bristol is to get its own currency – the Bristol Pound – in May under a scheme to be launched by a group of independent traders with the backing of the council and the city's major credit union.
The Bristol Pound aims to boost the city economy by allowing traders in the BS postcode area to exchange the local currency for sterling.
The currency will be printed in notes, and also traded electronically.
While there are other local currencies in the UK, this is the first which can be used to pay local business taxes.
The Bristol Pound can be used by itself or in conjunction with sterling.
Organisers believe the scheme will be the largest of its kind in the UK when it launches and will encourage and strengthen economic ties between local people and local traders.
Ciaran Mundy, director of the Bristol Pound, said the currency would keep people's wages in the community.
"People in Bristol who love the range of independent traders will be putting their money where it matters and reduce the need for lorries constantly moving goods up and down the country," he said.
"The scheme is also a powerful way to promote local businesses trading with each other. We are hopeful we'll have thousands signed up before the currency goes in to circulation. It seemed obvious that we should ask the people who'll have the Bristol Pound notes in their pockets and purses to design them."
Bristol-based architect and entrepreneur George Ferguson added: "After a lifetime of championing local independent enterprise, such a practical and positive initiative as the Bristol Pound is a massive boost. I look forward to spending my Bristol Pounds – and even more to receiving them!"
Antonia Bowen-Jones, owner of The Arts House Café in central Bristol, said: "Times are tough for small traders, but we know our customers want lively high streets – not just empty shops. We're looking forward to accepting the Bristol Pound, and helping keep local businesses at the heart of our city."
Mobile phone text and web payments will be available to members of the scheme.
City council leader Barbara Janke has welcomed the move and given the authority's backing – meaning council services will be able to be paid for using the local currency.
Budding designers, from schoolchildren to professional graphic artists, are being asked to come up with the designs for the banknotes in a competition to find eight designs – one on each side of the £1, £5, £10 and £20 notes.
The winning images are expected to capture something of the city's character, perhaps celebrating its commitment to greener living, its cultural diversity, its creative spirit or its technological heritage.
For more information on the Bristol Pound and the design competition go to www.bristolpound.org.