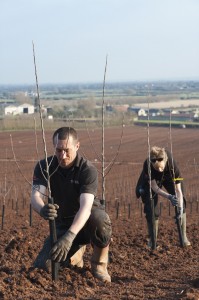 More people have switched to drinking Thatchers Cider in the last year than ever before. The Somerset cider maker recorded 37% rise in sales last year with 40m pints of cider leaving its Sandford farm thanks to increasing national distribution for its range of bottled ciders in the off trade.
Now the cider maker is investing £2.5m on a media campaign this spring and summer to boost its flagship Gold brand with national UK TV exposure on ITV1, Channel 4, Channel 5, Sky, Sky Sports, Sky Comedy, More 4, Dave, ITV2 and ITV4.
The campaign will emphasise the values and heritage of the Somerset-based cider maker under the banner: "The people who care about cider".
Managing director Martin Thatcher said: "This summer's campaign continues the successful year we had with Gold in 2011. Sales of Gold in the on-trade are showing 94% growth compared to last year according to recent CGA data and we believe it is now the fastest growing British premium mainstream cider."
He added: "This growth is reward for the sound values we have at Thatchers. We care deeply about the quality of our product, the heritage of the company and the stewardship of our orchards – these are all factors that strike a chord with consumers."
Indeed, the family firm is spending £300,000 on an orchard planting programme. New cider apple varieties Gilly, Angela and Lizzie are among the 50,000 apple trees being planted alongside traditional varieties such as Somerset Redstreak, and Dabinett which remain firm favourites with the family run company.
More than 98 acres of the new planting has taken place at Shiplate in Somerset on land bought by Thatchers two years ago to help meet the growing demand for its premium ciders.
Martin, a fourth generation Thatcher cider maker, said: "The land we have at Shiplate is a real jewel in the landscape. It's south facing, sheltered, and the soil quality is excellent. It's about as perfect a site for growing cider apples as you can get.
"Planting of new orchards and development of new apple varieties are long term commitments. We firmly believe that the quality of our cider starts right here in the development and stewardship of our orchards, and it's an investment we care deeply about."
He added: "It's incredibly important to us to maintain the premium nature of our ciders and we will not compromise on quality. We believe it's the passion that everyone who works here has for the product that contributes to its growing popularity. As a family company with 107 years heritage, this leaves us very optimistic for the future."
Thatchers has worked closely with the National Association of Cider Makers in the 25-year development of new apple varieties. The apple research programme was started back in 1984 by pomologist Liz Copas. Twenty nine varieties were developed, including Gilly, Angela and Lizzie which are now being grown in Thatchers Somerset orchards. Some 45% of all the apples grown in the UK are now used for cider making.