A Bristol tech start-up has launched the country's first community-focussed lost property app as a way of reuniting some of the 50m items that go missing in the UK every year with their owners.
Found, which can be used by the public and businesses, is the brainchild of Lance Plunkett who set about creating it after losing his keys in a taxi and then discovering how difficult it was to get them back.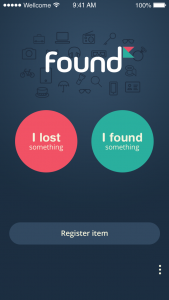 Lance and his team have built a mobile app and website platform that allows users to record lost items with just a couple of clicks. The app, which is being trialled in Bristol, has already attracted investment from billionaire Hargreaves Lansdown and Bristol Sport founder Stephen Lansdown.
People or businesses who find lost items can also use the app to register them.
These two events are then matched by Found's leading-edge software, which links the finders and losers of property to arrange safe return.
The Found team are hoping to create innovative changes in the way the lost property is reported and retrieved for the public and in how it is managed by businesses by using the latest AI technology.
This matches lost and found items and links the finders and losers of property to arrange safe return.
Lance said the 50m items lost a year in the UK are worth more than £1bn.
"Join this to the fact that police forces are no longer taking lost property at their stations, then you can see that there is a real need for a new innovative solution to this problem," he said.
As Found's partner network grows, so does the chance of finding the lost valuables which are registered on the app.
"If your item is discovered, we'll connect you with the person or organisation that found it, so that you can arrange to be reunited with your item.
"In this respect we're trying to create a community network that help each other, and promote social good."
Alongside the chief goal of repatriating people's lost property through the Found community, the company also has an altruistic plan for any unclaimed items which are registered with them.
COO Andrew Ogier said: "We're going to be partnering with Bristol charities to stop unclaimed lost property going to landfill, the first of which we're delighted to say is Caring in Bristol."
Found was invited and supported to set up in Bristol rather than Lance's hometown of St Peter Port, Guernsey, by the West of England Combined Authority's (WECA) inward investment arm; Invest Bristol & Bath.
The app will have a nationwide roll-out next year following its Bristol trial.
WECA chief executive Patricia Greer said: "This is a great example of the hugely innovative and beneficial technology that the West of England is famous for creating.
"We're proud to support investment into our region by providing business intelligence, through our Invest Bristol & Bath team. The West of England Combined Authority will continue to work closely with Found to support its growth and ambitions in the region."
Pictured: The Found Team, from left, marketing manager Claire Sharpe, CEO and founder Lance Plunkett, CTO Andrew Ogier and business partnerships manager Harry Felton