A group of Bristol tech trailblazers have been awarded a share of £1m to work on projects that will strengthen the city's status at the forefront of creative sector innovation.
The projects will focus on screen-based, immersive technologies and robotics and will include the world's first metaverse live streaming studio, a more sustainable but equally spectacular alternative to fireworks, and a pioneering technique set to transform sensory products and experiences.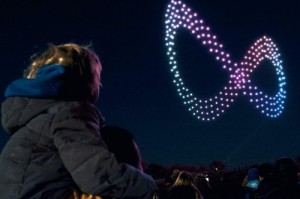 The start-ups will be the first to benefit from funding from MyWorld, the visionary initiative led by the University of Bristol that aims to drive innovation in creative technology tools and processes, empowering audiences and fuelling creative business growth.
MyWorld said the projects would address current challenges in creative sector industries. The funding will enable them to further develop their products and services.
They will work in collaboration with academics from UWE Bristol, the University of Bristol and Bath Spa University.
The projects include somerset drone show performance innovators Celestial Labs, who will work with Sri Lankan-born, Bristol-based musician Paul Jebanasam to produce a prototype control drone system which extracts live audio and motion information from a musician's performance and translates it into a drone light show which constantly evolves to reflect the performance.
Bristol tech start-up Zero Point Motion, which earlier this year raised £2.58m to build a state-of-the-art lab in the city to develop a new kind of navigation and motion-sensing microchip, will undertake a first-of-its-kind study that could generate new methods for the creative industry to measure immersion or reactions to visual stimulus.
Zero Point Motion is the brainchild of award-winning female physicist and inventor Dr Ying Lia Li, who grew up in Bristol and is now on a mission to revolutionise the world of sensors. The unique sensing technology deploys photonics – the science of light waves – to achieve ultra-low noise tracking of motion.
These pioneering inertial sensors can be more than 100 times more sensitive than those currently used in smartphones, cars, and games consoles.
London-based Marshmallow Laser Feast will be working with South West-based creatives All Seeing Eye to produce a range of tools designed to support the delivery of immersive location-based experiences for mass audiences. These services will present enhanced opportunities for the entertainment, visitor experience, and arts and culture sectors.
Air Giants, creators of giant robotic soft creatures, will explore new territory for large-scale tactile interaction between robots and people, working with the Bristol Interaction Group from the University of Bristol. The work will advance the gaming and leisure industries and create innovative sensory environments, for example, supporting children with special needs.
Air Giants director Richard Sewell said: "Our project, Giant Tactile Robots, will allow us to extend our unique work with giant joyful robots. We'll build new kinds of body-scale touch-based interactions in a way that's never been seen before, offering audiences wonderful and emotionally effective experiences.
"This funding has enabled collaboration, which will bring an academic perspective and deepen understanding of human-computer interaction."
Awarri, founded by Silas Adekunle, is helping lay the foundations for an inclusive and fair Metaverse by developing a cross-world avatar system that relies on 3D artists and uses Non-Fungible Token (NFT) technology to give users control over their identity, representation and personal data in virtual worlds.
Awarri will be working with UWE to ensure that users' rights as well as an open, creator and user-driven framework are central to the Metaverse, a network of 3D virtual worlds focused on social connection.
MyWorld is supported by £30m of funding from the UK Research and Innovation's (UKRI) Strength in Places Fund and is connecting regional and national partners with global tech giants, including Netflix, Google, and Microsoft.
Made up of a unique cross-sector consortium, its partners include the BBC, Aardman Animations, BT, Digital Catapult and Bristol Old Vic.
The hub is projected to generate more than 700 jobs and boost the regional economy by £223m by forging dynamic collaborations between world-leading academic institutions and creative industries to develop technological innovation, creative excellence, inclusive cultures and knowledge sharing.
MyWorld director and University of Bristol Professor David Bull said: "The West of England is an exciting, vibrant and globally recognised source of creative technology innovation and MyWorld is delighted to fund this first cohort of collaborative research and development projects.
"We can't wait to see the results and see what further opportunities they will generate for the partners and the region."
UKRI Strength in Places Fund programme director Rachel Tyrrell added: "I am delighted to see the MyWorld project award R&D grants to six innovative projects in the South West of England. This funding will stimulate the local creative technology industry and strengthen partnerships between universities and business."
The Collaborative Research and Development (R&D) Open Call is led by MyWorld partner Digital Catapult and the competition is delivered by Innovate UK.
Other creative enterprises from across the region will have the chance to bid for funding in the next R&D call, scheduled for next January.