Aerospace giant Rolls-Royce's Bristol plant has started work on harnessing world-beating composite technology to develop a new generation of jet engines that could transform air travel by slashing emissions.
The historic plant at Filton has long been associated with leading-edge engine development and over the decades has been responsible for creating Concorde's innovative Olympus 593 engines as well as military aircraft breakthrough such as the short take-off/vertical landing technology.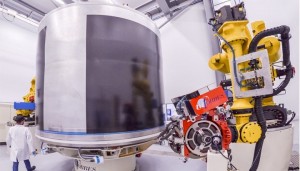 Rolls-Royce this week opened its new UltraFan engine demonstrator at Filton, securing 150 jobs in Bristol and adding to the city's already strong reputation for innovation in the use of lightweight composites in aircraft design.
An existing composite manufacturing technology facility, along with around 30 employees, has been transferred from the Isle of Wight.
The hub, pictured, will develop engine fan blades and fan cases which significantly reduce weight in a jet engine, lowering fuel consumption and emissions.
The blades and cases are a feature of Rolls-Royce's revolutionary new engine design which will reduce fuel burn and CO2 by at least 25% compared to the first Trent engine.
The new facility will use low-energy, very low emissions processes and features state-of-the-art automated manufacturing methods and materials.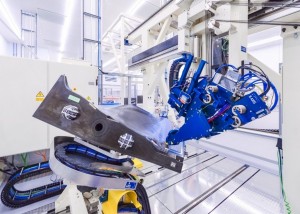 It will maximise the use of raw materials, reducing waste. Rolls-Royce has pledged to achieve zero emissions at all its operations and facilities by 2030.
As an aircraft engine manufacturer, Rolls-Royce has a crucial role in the transition to a net zero carbon economy. While air travel is a major contributor to greenhouse gases and global warming, it continues to expand globally at the rate of around 5% a year.
Airlines and aircraft manufacturers such as Airbus and Boeing, faced with pressure from environmental pressure groups urging people to fly less and from government measures such as green taxes, are desperate to cut the industry's carbon footprint.
-Royce said the new hub was key to its three-part environmental approach: reducing the impact of existing technologies; pioneering electrification in aviation; and working with the industry to accelerate the use of sustainable fuels.
Rolls-Royce director, aerospace technology and future programmes, Alan Newby said: "This incredible new facility exemplifies our commitment to creating cleaner, more efficient forms of power.
"Our highly-skilled employees will use the latest technology, materials and manufacturing techniques to develop components that will contribute to lighter, quieter, more powerful jet engines with fewer emissions."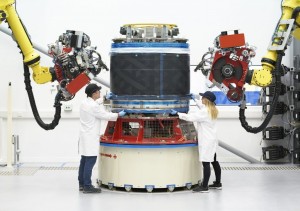 The facility will focus on carbon-fibre composites, which are used in the aerospace industry to reduce weight significantly. Engineering group GKN is pioneering the use of composite materials at its plant at Avonmouth, where it produces aircraft wing parts for Airbus and other aerospace manufacturers.
Engineers working at Airbus's major plant a stone's throw from Rolls-Royce's at Filton are also designing aircraft parts such as wings and landing gear that use composite materials while the National Composite Centre on the Bristol & Bath Science Park has made the West of England a world leader in this field.
The lighter an engine is, the less fuel it burns, creating fewer emissions. A Rolls-Royce fan system made with carbon-fibre composites can save almost 700kg per aircraft, the equivalent of seven passengers and their luggage.
The fan blades are made by manufacturing techniques that build up hundreds of layers of carbon-fibre materials, pre-filled with state-of-the-art toughness-enhanced resin material. Heat and pressure are then applied, and each blade is finished with a thin titanium leading edge, which offers extreme protection against erosion, foreign objects and bird strikes.
The composite system for the UltraFan engine demonstrator is taking shape, and different parts have completed aerodynamic performance, bird-strike, containment, icing and water ingestion tests, as well as ground and flight testing.
Rolls-Royce has been involved in developing carbon-fibre technologies for several decades and already uses the material for parts within its engines. The new facility will take this technology to the next level. 
It will benefit from manufacturing techniques that have been developed in partnership with the National Composites Centre and research conducted at the Rolls-Royce University Technology Centre at the University of Bristol, as well as several other universities and research centres based in the UK and in Europe.
Since 2008, the UK government has provided funding and support for Rolls-Royce composite technology research and development, including £7.4m of funding to support the Isle of Wight facility. The equipment from there has been moved and developed further at the new Filton hub.
Rolls-Royce's Bristol plant specialises in developing and building military aircraft engines, including the Eurofighter Typhoon's EJ200 and the Adour for the Hawk trainer jet.