The corporate deals market has bounced back in the South West and is on course for its strongest year since 2010, according to an analysis of recent mergers and acquisitions published by accountancy firm Grant Thornton.
Some 142 deals – ranging from acquisitions to management buyouts and flotations – are projected to complete this year against 116 in 2014 and 109 in 2013.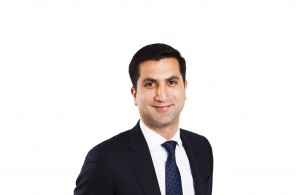 This upturn means the region is on track to outperform the national picture, which is expected to be down slightly year on year.
And according to Grant Thornton Bristol-based partner John Panteli, pictured, who leads the region's transaction advisory services team, the resurgence is a sign that the South West economy is strengthening with business owners and management teams now showing a renewed appetite to get deals done.
He also said Bristol now had critical mass in its advisory community with all but the biggest deals being completed in the city.
"When the recession hit in 2008 the market came to an almost complete standstill and there was a slowdown in deals for several years. Earlier this year there was a marked improvement but the uncertainty during the run up to last year's General Election slowed down that recovery," said John, who recently joined Grant Thornton's Bristol office after 12 years in London.
"Following the Conservatives' election win, there was an increase in business confidence but this has been tested by the ongoing uncertainty in Europe and a possible Brexit."
However, he said many firms had built up war chests of funds ready to make strategic acquisitions – and sellers were now happier to complete deals as values had edged up since the depths of the recession.
There was also plenty of funding available with the private equity community building up an appetite to invest funds and also signs that capital markets are returning.
"All these things are coming together to form a perfect market," he said, pointing to recent major acquisitions by Avon Rubber and Alliance Pharma.
He also said a "war for talent" was driving the market, with firms looking for bolt-ons that brought the right skills to their business and not just new products or services.
This dovetailed with a growing recognition of the importance of post-deal integration to ensure all parts of the business could work effectively together.
"It's not just about the financials. It's making sure all parts of the business fit, from the back office to the I.T. to the people and culture," he said.
Some 80% of sales of South West businesses this year have been to UK firms, with 10% from the United States and the rest involving Swiss, Australian, Canadian, German, Irish, Slovakian, and Swedish companies.
The majority of this year's deals have been acquisitions (83%), with management buyouts accounting for 11%, institutional buy outs 4% and just 1% were mergers.
While activity was spread fairly evenly across all sectors, a number of standout deals were in fast-growing areas such as healthcare, dentistry and pet care.
Among Grant Thornton high-profile deals were the acquisition of Devon-based Vetswest by MWI Veterinary Group and by AIM-listed CVS Group's takeover of Bristol-headquartered veterinary group Highcroft Pet Care.
The number of deals for the whole of the UK is expected to be around 2,800 by the close of the year – a fall of 100 on the previous 12 months.