Solar technology provider Solarsense is forecasting a fourfold increase turnover within the next five years as rising energy prices and the drive towards energy independence boosts demand.
The Backwell-headquartered firm, which grew revenues by 120% to £6m in the last financial year, believes rising demand for green power and the changing energy landscape will power its turnover towards £25m by 2027.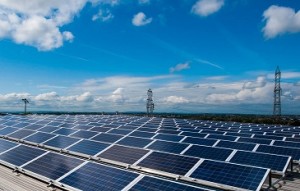 Solarsense has been designing, installing and maintaining solar technologies for more than 25 years, making it one of the UK's oldest companies in the sector.
But with solar energy an essential element of the UK's plans to achieve a net-zero economy by 2050, it is witnessing a significant switch to the technology, particularly it power-intensive industries such as manufacturing.
With an estimated 250,000 hectares of south-facing rooftop space available for panels, Solarsense sees a significant potential for greater use of commercial and industrial rooftop solar systems.
The company, which operates out of net zero carbon offices, said expansion will create jobs and could also be the catalyst for a new apprenticeship scheme for solar installers.
Managing director and joint founder Stephen Barrett said: "Our vision is to change forever the way UK plc is powered – switching to clean energy is not only good for the environment but also makes economic sense.
"It's great to see innovative energy solutions finally becoming mainstream and exciting to be in a period of rapid growth where we can really make an impact on reducing carbon emissions across the South West, Wales and beyond.
"Due to rising energy prices and energy security rising to the top of the board agenda we are predicting exponential growth in the next few years."
He said a typical businesses would benefit from solar generated unit rates of 4-5p over 20 years, compared to around 30p on the energy market today – nearly six times the saving for each unit consumed.
"We are also talking to colleges about the idea of the UK's first apprenticeship scheme for solar installers as predicted demand for installations will put significant pressure on current capacity within the market," he added.
Solarsense has already brought solar power to clients as diverse as Glastonbury Festival, household products firm Brabantia, the Duchy of Cornwall, UWE, the NHS, the RSPB, Tesco and socially conscious toiletries retailer Lush.
The firm has also helped a number of community groups to benefit from solar, most recently Northleaze Church of England Primary School, where it installed North Somerset's first community-owned school solar photovoltaic (PV) system.
As well as rooftop systems, Solarsense offers a range of other renewable energy products, including commercial battery storage; large-scale solar parks; commercial electric vehicle charging and solar carports; and clean energy finance.
The company is an innovator in the design of cutting-edge solar technology and has won more than 20 industry awards in recognition of its expertise.