A long-established Bristol architectural window system business that has worked on many of the city's landmark building schemes has gone into administration due to rising costs and delays on key projects.
The Window Glass Company (Bristol), which trades as Window Glass, was founded in 1970 and operates from a 55,000 sq ft factory in Brislington, from where it designs, manufactures and installs its own architectural window glass systems. 
Its projects have included aluminium systems for shop fronts and entrances and curtain walling for hospitals, supermarkets, schools, leisure centres and residential developments.
Recent work in Bristol has included the Print Hall student accommodation scheme in Old Market, the National Composite Centre on the Bristol & Bath Science Park and the Premier Inn on Lewins Mead.
It has also worked on flagship projects in Swindon, Plymouth, Cardiff and Sandford, North Somerset, where it completed the frontage for Thatchers Cider's new kegging, bottling and barrelling Jubilee Building, pictured.
While Covid-19 and Brexit impacted the business during 2020 and 2021, it had bounced back – only to be hit by soaring energy and raw materials costs and problems with a number of key projects, according to the Bristol office of international audit, tax, and advisory firm Mazars, which is handling the administration.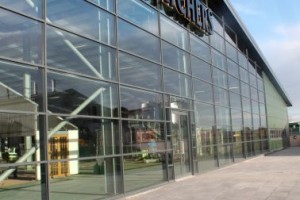 Window Glass's trading position had improved towards the end of 2021 and the early months of this year, generating sales of around £3.4m, Mazars said.
But it said the further headwinds of raw material and energy price increases, combined with delays to certain key projects, resulted in it incurring further losses in the year to date.
Despite having a strong future order book of approximately £2m and a number of live contracts, the company was facing an immediate cashflow requirement that could not be met.
As a result, the managing director Peter Whitmarsh concluded there was no option but to enter administration.
Mark Boughey and Mike Field of Mazars were appointed joint administrators on Tuesday.
Mazars is now seeking a buyer for all or part of the company's business and assets while assessing the viability of continuing to complete certain key projects.
Mark Boughey said: "We are sorry to see such a long-established South West family-owned business fail as a result of the legacy impact of the Covid-19 pandemic, inflationary pressures on costs and project delays, that were all largely outside of their control.
"The director had to make the difficult decision to enter administration to prevent the position for creditors worsening.
"We are currently assessing the situation, reviewing the status of ongoing contracts and seeking a buyer for all or part of the company's business and assets."