Industrial giant Siemens is to open a tidal turbine blade factory in Bristol, creating 49 jobs and boosting the city's growing reputation as a centre for low-carbon technology and innovation.
The German group made the announcement yesterday when Energy and Climate Change Secretary Edward Davey visited its Marine Current Turbines (MCT) business.
MCT, which employs 50 people at the Bristol & Bath Science Park, has received a £1m under the Government's Regional Growth Fund (RGF) for research and development into innovative tidal technology.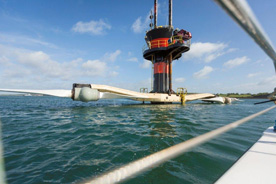 It is to use the funding to help establish a tidal turbine blade manufacturing facility. Tidal power represents a very promising opportunity for the UK to lead in this area of innovative renewable technology and to create new jobs and skills.
Mr Davey was in Bristol to announce the next round of RGF funding, which will provide a £18m boost to seven South West-based businesses – part of a £300m package of funding for UK businesses in round 5 of RGF.
Mr Davey, pictured, second from left, visiting MCT, said: "The Government has been striving to rebalance the economy away from London and away from the financial sector. Here in the South West the impact the Regional Growth Fund is having is clear to see.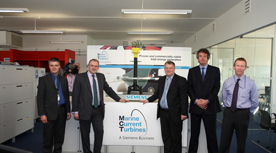 "MCT, based here in Bristol, builds tidal turbines, and is part of the UK's world-leading marine energy industry. Wave and tidal power play an important part in our low carbon energy mix and MCT is a great example of how RGF is helping projects that will create green jobs and growth in the region."
MCT chief executive Sven Stoye said the RGF funding would contribute towards development of the firm's next-generation tidal technology.
"The UK is a key market for Siemens in further developing this pioneering technology. Marine Current Turbines was the first mover in tidal technology in the UK and this support will help us to move to the next level of development," he said
"Tidal technology represents a great opportunity for the UK to lead and has the potential to create new jobs and skills in this innovative renewables technology."
Mr Davey opened Siemens new tidal Test and Assembly Facility in Bristol last year and MCT is also working with Narec on its latest 2MW drive train. MCT currently employs 50 people at its offices at the Bristol and Bath Science Park.
MCT, owned by Siemens since 2012, pioneered the development of the SeaGen S 1.2MW tidal turbine, the world's first commercial scale free stream tidal power system at Strangford Lough in Northern Ireland. This has been delivering clean energy to 1,400 homes since 2008. MCT is also involved in developing new larger arrays in Wales and Scotland and internationally.
Science park chief executive Bonnie Dean added: "The Bristol & Bath Science Park is a hub for innovation in the South West and I'm delighted to see this significant investment in MCT, who are a key part of our community.
"The funding will create 49 high value jobs and enable MCT to invest in research and development which will reinforce our region's position at the forefront of environmental technologies.
"MCT is a good example of a business that has innovation at its heart, and it's encouraging to see the government making this commitment today."
Round 6 of the Regional Growth Fund will open for applications in the summer.