Brunel's SS Great Britain, Bristol's most popular tourist attraction, is preparing to celebrate 50 years since it returned to its home city with a special programme of events.
Little more than a rusting hull when it was towed up the River Avon and under Brunel's Clifton Suspension Bridge in 1970 after languishing for 37 years on the seabed off the Falkland Islands, the famous ship is today back to its former glory, shipshape and Bristol fashion.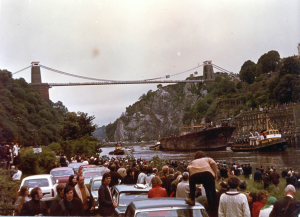 Now to mark the half-century since its homecoming, a series of events have been planned including a free outdoor exhibition to a spectacular light show.
The '50 Years Back Home in Bristol' campaign kicks off in April, with the opening of a special exhibition telling the story of its journey from beached wreck to Bristolian landmark. The exhibition along Bristol's harbourside – which runs from Aril 2 to September 6 – will depict some of the most epic moments.
In July – as part of Bristol Harbour Festival – SS Great Britain will open its arms to the city with an evening light show on the harbour in front of the ship, set to draw communities from across the region and celebrate the ship's return to her birthplace.
Details of the events – which will be followed by others later in the year – were revealed today to hundreds of key tourism industry players, who have spent two days in Bristol for the UK's largest-ever annual convention of its kind.
SS Great Britain recently won the title of Europe's Most Welcoming Museum in the European Museum of the Year Awards.
The ship, the world's first great ocean liner, is berthed in the original dry dock where she was built in 1843. Alongside her is the Being Brunel museum, which explore the life and works of the UK's greatest engineer.