Bristol law firm Barcan+Kirby has strengthened its wills, trusts, and probate team with the appointment of Helene Bryant as a senior associate.
Helene, pictured, who is also a registered trust and estate practitioner and joins from NewLaw Solicitors in Bristol, where she spent five-and-a-half years as an associate in its private client department.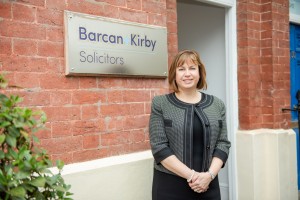 She has also worked for Co-operative Legal Services and the Co-operative Trust Organisation Corporation.
At Barcan+Kirby she will lead the team in its new Bishopston office on Gloucester Road, advising clients on matters relating to Wills and probate, Powers of Attorney, trusts, estate planning and wealth preservation.
Helene said: "This is an exciting time to join Barcan+Kirby at the new Bishopston office.
"I look forward to enhancing the services offered from the office and growing the firm's private client practice as a trusted adviser to both new and existing clients."
Barcan+Kirby managing partner Bill Willcocks added: "We are delighted to appoint Helene, who brings 20 years' worth of experience and legal expertise to the role.
"Our clients will benefit from her extensive knowledge when it comes to preparing for the future, putting in place plans tailored to individual requirements and circumstances.
"Helene and the team in Bishopston will also be able to serve clients in the local community when it comes to navigating the complexities of inheritance tax and capital gains tax."
Barcan+Kirby recently relocated the 29 staff in its Gloucester Road office to the improved setting of the former Barclays Bank building in Bishopston after being part of the road's business community for more than 40 years.
The office is one of the firm's six high street branches across Bristol and South Gloucestershire, from where it provides a comprehensive range of legal services.
These include residential conveyancing, family law and mediation as well as issues relating to Power of Attorney and wills and estate planning.
Last year Barcan+Kirby won Bristol Law Society's Firm of the Year (under 20 partners) Award for the second time in four years. It was also won the business award for gender at the Bristol Diversity Awards 2019.