The Bristol office of specialist finance group BGF has made a £4.7m growth capital investment in heavy equipment rental firm Plantforce – its second transaction in the sector this month.
Weston-super-Mare-headquartered Plantforce is the largest firm of its type in the South West with a client portfolio that includes Kier, Costain, Balfour Beatty and BAM construction groups.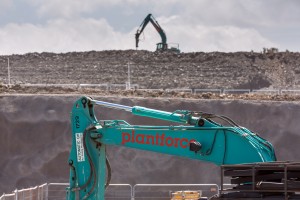 It is also one of only a small number of contractors to hold approved supplier status for both the nuclear and rail sectors – it is the largest supplier of specialist equipment for the construction of the Hinkley Point C nuclear power station near Bridgwater and has already provided machinery for ground investigations for the HS2 high-speed rail line from London to Manchester and Leeds.
The deal follows BGF's recent £6.3m investment in Bristol-based Molson Construction Equipment, the UK's largest distributor of capital equipment to the construction sector.
Plantforce, which was founded in 1999, will use its BGF funding to support its growth plans through organic expansion and acquisition as well as adding more depots alongside its sites in Weston-super-Mare, Exeter, Bridgwater and Birmingham.
The firm has one of the most modern and diverse ranges of excavator equipment in England with more than 750 machines and 250 attachments.
It is highly accredited and focuses on providing specific bespoke services across all sectors of the construction industry, including skilled operators and 24-hour customer support.
Plantforce managing director Claire Trott said: "This is a really exciting time for Plantforce. We have a clear vision and we're very pleased to have BGF's support at this crucial stage in our growth phase.
"The investment will not only enable us to diversify and expand our fleet, and also to continue and strengthen our service offering, but strive to do better."
 The investment was led for BGF's Bristol office by Ned Dorbin, Edwin Davies and James Skade.
Ned Dorbin said: "Plantforce has established a strong position in the construction market as a provider of exceptional quality machinery supplemented with round-the-clock customer care.
"Providing operated kit is one of their key differentiators and we believe the company is well-positioned to capitalise on several large infrastructure projects over the coming years. We're very happy to be backing them ahead of a what looks to be a very exciting time for the business."
Bristol-headquartered national law firm TLT provided bespoke legal advice and services to Plantforce's management team and worked with the other parties to deliver a successful and timely agreement.
The TLT team included partner and head of corporate John Wood, corporate associate Adam Kean and banking and restructuring partner Jon Stewart.
John Wood said: "The investment by BGF shows that there is a really healthy appetite in the South West market to invest in successful businesses with strong management teams. We have built a strong team with the scale and experience to support businesses with their significant growth decisions. We look forward to supporting Plantforce with the next phases of its development."
TLT also acted for Molson on its BGF investment.
BGF's advisers on the Plantforce deal were South West law firm Foot Anstey, with a team led by Ken Lewins and Adam McKenna, and accountants from KPMG, led by Bhupinder Purewal.