Bristol's emerging role as a national crucible for tech innovation received royal approval this week when the Duke of York visited the city.
The Duke, who has a keen interest in technology and knowledge transfer, met fledging and established tech companies on Monday when he toured Bristol's recently-opened Engine Shed innovation hub at Temple Meads, and the Bristol Robotics Laboratory at UWE's Frenchay Campus.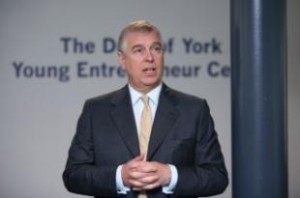 He had a chance to see for himself some of the world-leading projects emerging from the two centres – and was not afraid to ask some challenging questions of those he encountered.
His Royal Highness said: "I am very impressed with the connectivity between the universities and the business world.
"There is no barrier today to starting your own business, just a question of whether or not we have the facilities and this is a wonderful facility in the heart of Bristol, next to the railway station."
The tour included a return visit for HRH to the University of Bristol's SETsquared Centre, now at Engine Shed. He previously visited the centre, a world leader in developing hi-tech, high growth businesses, in 2011 – click here for Bristol's Business News' exclusive interview with the Duke following that visit.
At a working lunch he learnt about the challenges facing today's technology entrepreneurs from the SETsquared Centre. He also met with members of the new WebStart Bristol internet accelerator, another Engine Shed resident.
Representatives of the West of England Local Enterprise Partnership (LEP), the University of Bath School of Management & Bath SETsquared Centre, and the inward investment service, Invest in Bristol and Bath, also attended the royal visit.
Nick Sturge, director of Engine Shed and of the Bristol SETsquared Centre, said: "We are honoured that The Duke of York was able to visit us again and see our exciting new home. It is invaluable that Bristol and Bath are acknowledged for the robustness and vibrancy of the tech start-up scene.
"Engine Shed aims to be a lightning rod for growth and we are grateful for the support of His Royal Highness in the UK tech scene, nationally as well as in Bristol and Bath."
The Engine Shed, housed in Brunel's original train station, is an enterprise hub for the city and was designed to drive investment forward, create jobs, and encourage a new generation of high-growth businesses.
At the Robotics Lab – the UK's largest academic centre for multi-disciplinary robotics research – the Duke met scientists and engineers from its many different disciplines including materials scientists, software engineers, microbiologists, psychologists, aero engineers, control systems engineers, surgeons and clinicians.