Funding from a trust operated by construction group Wates has helped an inner city Bristol school open a new classroom for students with learning difficulties.
Hannah More primary school is in the shadow of the 2 and 3 Glass Wharf office buildings in Temple Quay, which were built by Wates.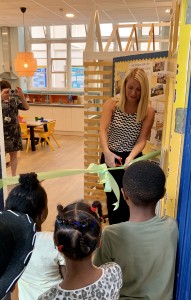 The £10,000 grant from Wates Giving, part of the Wates Family Enterprise Trust, meant the school could transform a 19th century classroom into a modern, secure and relaxing space for children with particular educational needs.
Wates Construction formed a strong relationship with the school during construction of 3 Glass Wharf, which completed earlier this year. School students visited the site to see the inner workings of building projects on numerous occasions and Wates' staff attended school assemblies to talk about the importance of health and safety on a construction site.
The majority of school's pupils have English as a second language and many are from a refugee background and require special provisions outside of mainstream learning environments.
Headteacher Sue Ramsay said: "We are immensely grateful to Wates Giving for this donation. It has made a huge difference to the quality of the environment in the nurture room for some of our most disadvantaged children."
Wates Construction Southern Home Counties business unit director Alec Jackman added: "Hannah More Primary plays a vital role in supporting the integration of children from a wide variety of backgrounds into the local community.
"This new classroom will serve as a safe, calm space to support this process with students that have difficulties in mainstream teaching environments. I'm very proud that our position as a contractor in Bristol has enabled us to secure this grant and help to create the school's new nurture room."
Wates Giving is run by the Wates Family Enterprise Trust and forms part of the Wates family's commitment to being responsible business owners.
2 Glass Wharf, a 101,000 sq ft office building, is let to accountancy firms PwC and Grant Thornton, global building consultancy group Arcadis Group and law firm Foot Anstey, while 107,000 sq ft 3 Glass Wharf has been pre-let to the HMRC.