Barclays and City of Bristol College this week teamed up to launch a national scheme to warn young people of the dangers of fraud and scams as cases that deliberately target schoolchildren and students continue to rise sharply.
The banking group's UK CEO Ashok Vaswani, pictured, officially unveiled the project at the college, where he took part in a LifeSkills session – a programme funded by Barclays for 11-24 year olds.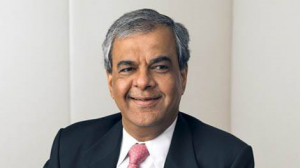 According to UK fraud prevention service Cifas, there were more than 17,040 instances of 'misuse of facilities' fraud in the first half of this year. These are cases where an account has been misused by the genuine account holder for profit.
Some 4,222 of these account holders were aged under 21 – almost twice as many as a year ago.
According to Barclays, many young people are unwittingly becoming 'money mules' in a scam known as 'deets and squares' – deets is slang for bank details and a square is a credit or debit card.
In cases of this kind, young people are persuaded to hand over their bank details to fraudsters in exchange for money.
The prospect of getting some extra cash simply by allowing someone to use their bank account for a money transfer sounds too tempting to resist for many young people. But as accessories to the fraudsters' crime they can face a prison sentence, the loss of banking facilities, a ruined credit history and financial difficulties lasting well into adulthood.
The launch was timed to coincide with Mr Vaswani's visit to Bristol, when he also met Barclays business customers and bank staff.
He said: "Crooks are using ever more sophisticated tactics to trick youngsters into handing over their bank details. It's alarming that our young people are being increasingly targeted in schools and colleges, and aren't aware of the dangers and implications of this crime. 
"Young people need to be wary of anyone approaching them with the promise of cash for the use of their bank account. Through our LifeSkills programme, we want to help raise awareness amongst young people of the risks they face and give them with the tools to stay safe."
City of Bristol College principal and CEO Lee Probert added: "The development of skills goes beyond the academic and practical content taught in our classrooms and workshops. Through adopting a holistic approach to education and working with partners such as Barclays, we're able to develop wider life skills of our young people, supporting them to make right choices for themselves and raising their aspirations for developing meaningful careers. 
"Educating young people about the dangers of financial scams, knowing how to respond in such situations and understanding consequences of participating in fraudulent activities, is just one piece of the jigsaw of becoming responsible citizens and active members of our society."
Some 90% of secondary schools and 67% of colleges in Bristol and across the South West which have signed up to the LifeSkills programme will now have access to new training, which includes lesson materials and online tools to help young people understand when they are being targeted by fraudsters and how to avoid being duped into sharing their bank details.
The resources also include materials covering how to deal with a range of financial dilemmas and the broad financial risks that young people may face.