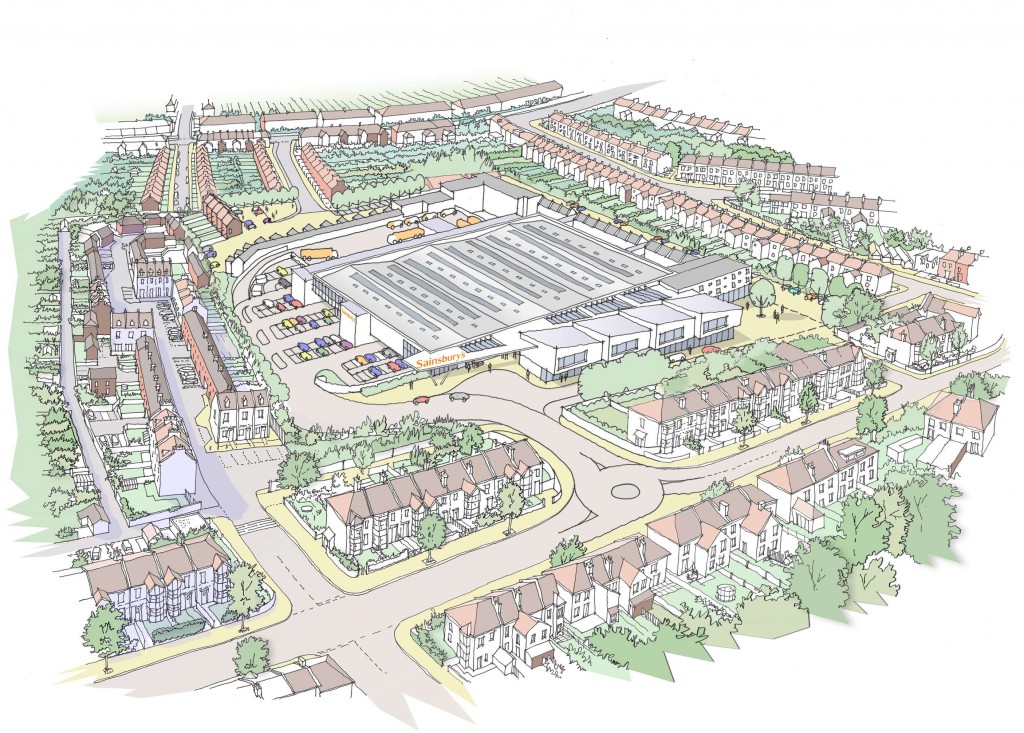 Supermarket group Sainsbury's has unveiled its latest redevelopment plans for Bristol's Memorial Stadium – and admitted it has learnt lessons from the planning wrangle over its controversial Ashton Gate scheme.
Sainsbury's plans at the Memorial Stadium – home to Bristol Rovers and Bristol Rugby – include a 50,000 sq ft store, up to five small retail units and a 'home zone' with 68 homes ranging from 3-bedroom town houses to flats.The scheme would create around 350 jobs.
Bristol Rovers want to move to a new £40m, 20,000-seat stadium on UWE's campus at Frenchay. Selling the Memorial Stadium, which the football club own, to Sainsbury's would fund this move.
Sainsbury's latest plans are on display to the public at the Memorial Stadium today and tomorrow in an exercise that follows several weeks' consultation with near neighbours and other interested community individuals and groups.
Sainsbury's regional development executive Ben Littman said the group had looked closely at how its redevelopment plans for Ashton Gate were received. The scheme to build a superstore on Bristol City's ground – so allowing the club to build its own stadium – was rejected by councillors amid a high-profile campaign by some local people and pressure groups who argued it would hit local traders and cause traffic problems.
The revised plans were approved by councillors although council planning officers had recommended refusal.
"We learnt some lessons with the Ashton Gate scheme," said Mr Littman. "The city council pushed us hard on sustainability issues but we hope for a more straightforward process with this scheme."
While it admits that the store will generate traffic, Sainsbury's argues that it will help ease congestion in the Horfield area as it would give local people an alternative to driving longer distances to existing supermarkets. It points out that public transport in the area is good with nearby Gloucester Road well served by buses.
The plans include a 450-space underground car park, extensive pedestrian and cycle links with surrounding roads, and a roundabout at the entry to the site from Filton Avenue.
The stadium's Memorial Gates would be retained as part of a new Memorial Square which would continue the ground's commitment to the memory of Bristol rugby players who have lost their lives in conflict.
If the plans are approved – and Rovers gets consent for their new stadium – work would start on the site in 2014.
The football club has planning approval for its own redevelopment of the Memorial Stadium, which include a 18,500 seat stadium an 84-room hotel and 550 student flats. However, funding for this scheme would be harder to obtain than selling the site to Sainsbury's and using the proceeds to build a stadium at UWE.
Mr Littman added: "We would encourage everyone from the local community to come to the exhibition and discuss the proposal with us.
"Their ideas will help to ensure that the proposal evolves in such a way as to offer most benefit to the local area.
"Sainsbury's team includes architects, planning consultants and highways experts. As well as listening to people we will also be there to respond to questions about the proposed development."
The public exhibition is in the Bristol Room and is open until 2.30pm today and from 10am to 6pm tomorrow.