The Bristol office of national financial and professional services group Smith & Williamson is once again sponsoring this year's Annual Open Exhibition at Bristol's RWA (The Royal West of England Academy).
The region's original and longest-running open exhibition and now in its 167th year, the exhibition takes submissions from artists at any stage of their career and in any media - including painting, sculpture, print making, photography, textiles, film and installation.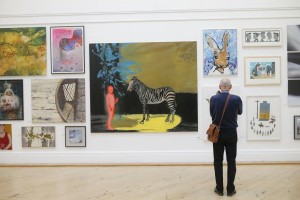 A selection panel assesses every entry – some 1,600 artists from England, Scotland, Wales, Ireland and as far away as Sweden, Portugal and Hong Kong submitted 2,852 works of art for this year's exhibition.
Last year more than 600 works by 400-plus artists made it into the final exhibition, which attracted over 10,000 visitors.
This year's panel included Tim Marlow, art historian and artistic director of the Royal Academy, Adelaide Damoah, painter and performance artist, John Talbot, art collector; Mark Hudson, award-winning art writer and critic for The Daily Telegraph, and RWA Academicians Malcolm Ashman, Dallas Collins, Toni Davey, Stewart Geddes and Leslie Glenn Damhus.
This year's invited artists are Adelaide Damoah and Ryan Mosley.
Smith & Williamson Bristol managing partner Carl Deane said: "Once again we are proud to be sponsoring the RWA's Annual Open exhibition, the fifth year we have done so."
He said the firm was keen to play an active role in the city's cultural life, which would continue with its sponsorship of next year's Pre-Raphaelites exhibition at the Bristol Museum.
The RWA Annual Open exhibition runs from September 29to December 1. Prizes include the £1,000 Academy Prize.
Income from submissions is a vital source of support for the RWA, an independent charity, to maintain its historically significant building, present its ambitious programme of exhibitions and deliver creative opportunities for young people and adults across Bristol.