Key innovations that are putting Bristol at the leading edge of global robotics research will be demonstrated to the Duke of York when he visits Bristol Robotics Laboratory (BRL) on Monday.
BRL is the UK's leading and largest academic centre for multi-disciplinary robotics research and home to a vibrant community of more than 100 academics and industry practitioners who are leading current thinking in service robotics, intelligent autonomous systems and bio-engineering.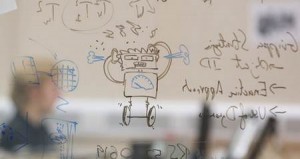 The Duke will meet scientists and engineers from the many different disciplines working in BRL – a collaborative partnership between the University of the West of England (UWE) and the University of Bristol – including: materials scientists, software engineers, microbiologists, psychologists, aero engineers, control systems engineers, surgeons and clinicians.
He will see many disciplines being brought together to tackle important UK issues such as independent living in an aging population which the Mobiserv project is addressing, remote tele-robotic systems for remote medical inspection and how artificial muscles can be controlled – ideas inspired by how the mammalian brain functions.
He will also see groundbreaking research into energy autonomy for robots using waste which has recently been awarded prestigious Gates Foundation Funding, where researchers have charged a mobile phone using urine as the power source to generate electricity.
His Royal Highness will also meet innovative start-up businesses based in the BRL incubation facilities, with product developments in gaming, plastic reflective displays, 3D printing and robot kits for STEM education.
UWE vice-chancellor Professor Steve West said: "There is amazing potential here in the South West region to develop some of the most innovative robotic technology currently being researched in the UK and Europe, and this is a great opportunity for the Duke to get an insight into some of the latest developments."
BRL director Professor Chris Melhuish added: "Our focus is to bring together the excellent facilities and multidisciplinary team at BRL with leading funders, innovators and to make the most of this opportunity for the region and the economy. We are very pleased to welcome His Royal Highness to BRL to share in this innovative work."