Bristol-based specialist tech consultancy Techmodal is using its expertise in data science to help the Royal Navy undergo a major transformation.
The firm is part of a group of businesses ranging from accountants PwC and Deloitte and software firm Kainos working supporting Navy Command's senior leadership in its programme to "transform the Navy in 1,000 days".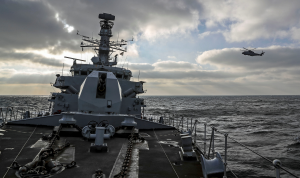 Techmodal works with defence, industry and public sector clients to transform their operations in areas as diverse as staff training, vehicle fleet operations and supply chain efficiency by using their own data.
The firm has delivered what it calls disruptive change in the form of tailored "digital people analytics solutions" to Navy Command HQ over the past two years. As a result it has built an expanded team around its proven data science-led capability.
Under the new framework contract Techmodal will build, deliver and support data science, analytics and digital solutions for the Navy.
Techmodal director Gareth Vaughan said: "Winning this work is a fantastic outcome for Techmodal and our partners. We're excited to bring together a data science, digital solutions and world-class partner to help the Royal Navy transform their people enterprise."
Techmodal was founded in 2005 by PhD students Martin Jonik and David Evans and now employs more than 100 market experts, data scientists, consultants and systems analysts at its head office in Queen Square.
It offers a selection of consulting, cost modelling, analysis and software development capabilities and has worked with all UK front line commands and the DE&S (Defence Equipment & Support).