Firms are being sought to sponsor rower and University of Bristol PhD student Elsa Hammond's epic solo voyage across the Pacific.
Elsa, pictured, will be the only European solo female competitor in the 2,400 mile race from California to Hawaii this summer during which she will row for up to 16 hours a day.
She will be raising money for the Plastic Oceans Foundation to heighten awareness of the damaging effects plastic pollution is having on the world's oceans.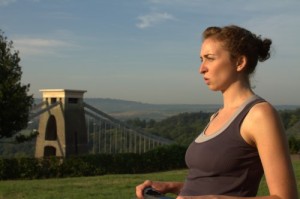 Having received £25,000 so far from sponsorship and other support she still needs to raise £75,000 to take part.
At the campaign appeal launch earlier this week, Elsa received donations from Swindon-based IT services and solutions provider Excalibur and the University of Bristol.
Speaking at the event, Bristol Mayor George Ferguson urged the city and its businesses to get behind an attempt, which he described as an "incredible, mad feat".
He joked that there were a number of very rich business owners in the city for whom £75,000 was "a mere fleabite".
He added: "The city should embrace Elsa's challenge, which is fitting in the lead up to 2015 when we will be celebrating our European Green status.
"The city will support Elsa in every way it can. I look for heroes in 2015 to bring attention to environmental issues, and I hope that Elsa can bring an important message about plastic pollution in the world's oceans."
The 24ft-long boat, which will be Hammond's home for three months, includes a small sleeping area and all the equipment that she will need to survive, including water making kit, solar panels for electricity, satellite phone and navigation equipment.
A range of sponsorship opportunities are available from title sponsor – which would enable the company to name the boat and paint it in its brand colours – to smaller packages which would include logos on the boat and equipment.
Donations in kind for food and equipment will also be welcomed.
Pro Vice-Chancellor at the University of Bristol, Judith Squires, revealed that Elsa will be supporting physiological and psychological research during her journey as her body and mind endure extreme conditions in isolation.
Other speakers at the launch event included Chris Martin, the Director of the race, which is the first of its kind across the Pacific; Justin Adkin of SeaSabre, who is constructing Hammond's boat, and Jo Ruxton, founder of Plastic Oceans.
Ms Ruxton added: "We're absolutely honoured that Elsa has chosen us. When throwing things away, we rarely think about where "away" is, and our actions lead to dangerous chemicals making their way into our food chains."
Ahead of the race, which begins on June 7, Elsa will be training six days a week around Bristol Harbour, including in her new boat when it is finished.
For more information, and to track Elsa's progress in the run-up to the Great Pacific race, visit www.elsahammond.com.