Annual fee income at Bristol-headquartered national law firm TLT rose by 10% in the 2017/18 financial year to break through the £80m mark for the first time.
The double-digit increase to £82m is a return to form for the firm, which chalked up 15% revenue growth in 2015/2016 only to see the pace of expansion slow last year to 4%.
The latest figure represents the first full financial year since it launched a new strategy to 2020.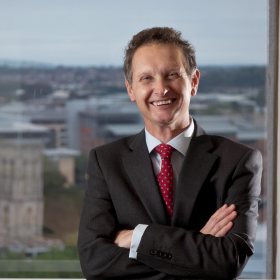 The firm said activity levels were up across its transactional, advisory and disputes services – driven by new client wins, panel appointments and increased support for existing clients.
Over the year the firm acted on a number of high-profile matters including completing £58.5m worth of ground-mounted solar share acquisitions for NextEnergy, representing a consortium of 13 Indian banks in a £1.1bn recovery action and on the New Covent Garden Market redevelopment, part of the £470m sale of Nine Elms Square.
TLT managing partner David Pester, pictured, said: "We have had a strong year with fee income breaking £80m for the first time. Our results are underpinned by our new strategy and tactical plans to increase market share; we have also seen an increase in deal volumes and value.
"Looking longer term, this year's results mean growth over five years of more than 60%. This has been largely organic and built on the back of our investments to deepen expertise in core areas and the sectors within which our clients operate.
"Conditions favour those law firms that invest in talent, expertise and how they deliver. We will continue to focus on how we can transform what we do and innovate to deliver greater benefit and support for our clients."
During 2017/18 the firm maintained significant investment in its technology capability and business transformation programme, including a partnership with US technology company Legal Sifter to launch a 'combined intelligence' solution for contract negotiation.
"It has also continued to attract and retain talent, with six lateral partner hires across its UK offices alongside six internal partner and 11 legal director promotions.
The firm made several management changes over the past financial year with the appointment of John Paul Sheridan as head of Scotland, Chris Owen as its first international head and Linda Convery as its new head of social housing.
TLT's 100 partners and 1,000 staff are based across its offices in Bristol, London, Manchester, Glasgow, Edinburgh and Belfast.