Bristol's highly talented workforce and its unparalleled collaborative approach mean it is well positioned to become one of the world's leading centres for innovation, according to a major study published this week.
The Bristol city-region, which includes Bath, is already among the UK's most exciting innovation clusters based on its vibrant tech, creative, advanced engineering and financial services sectors, the report says.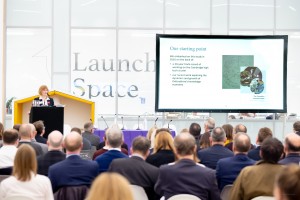 And its four universities also play a key role in attracting and retaining talent while triggering new world-class innovation through their research projects and business support schemes.
While the study produced by consultants SQW, leaders in the field of innovation and economic analysis, highlights future opportunities that could boost the city-region further, it also notes there are some serious challenges on the horizon such as affordability of housing, the increasing cost of space for start-ups and scale-ups and a lack of an investment infrastructure when compared to other UK regions.
There was also a need to increase diversity in the city-region's high-growth sectors as they remain unrepresentative, the report concludes.
However, the overall view of SQW, whose previous work has profiled the Cambridge Phenomenon and Oxfordshire Innovation Engine, was that the city-region is 'cool, classy and supremely creative' with the potential to become a global innovation powerhouse and rival US cities such as Seattle – home to Boeing and Microsoft – and Boston.
It said "with its pace of development and the potential going forward, the Bristol and Bath city region is well placed to become a global innovation force in the future". 
The study revealed a number of drivers behind the city region's innovation success. Its "innate culture of collaboration" was singled out, boasting a strong interplay between specialist sector and local networks which bring together organisations and individuals from the fields of creative and cultural, hi-tech and digital, aerospace and advanced engineering, health and professional and financial services. 
The success of these local networks was facilitated by the compact scale of the city-region as well as the fact that many are privately funded and self-sufficient with little dependency on public funding. 
These network relationships also supported a fluid workforce that has moved between the different industries that make up the innovation economy, supporting cross-sector working, technology transfer and collaboration opportunities, the report says.
The "outstanding" quality of life across the region with its rich mix of cultural and creative assets had been key to establishing a thriving innovation economy as it has enabled a workforce that was rooted in place and unlikely to go anywhere soon.
This meant Bristol and Bath could boast "stickiness" – people tend to stay in the region because of the quality of work and life – and "thickness" – there is a critical mass of specialist skills. These factors combine to supports the retention of talented people, particularly graduates who have a commitment to "the place".
With its concentration of talent, the city-region has made a name for itself in specialisms including high-value product design, virtual reality, games technology, computer science and engineering, animation, digital design and publishing, TV and film and finance and business technology.
A particular driving force for innovation is one of the highest concentrations of higher education, research and innovation centres in the UK.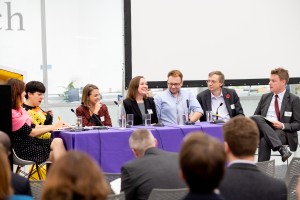 The report singles out the National Composite Centre set up by the University of Bristol which develops new technologies for the design and rapid manufacture of high quality composite products; CAMERA at the University of Bath, which explores motion capture and VR in gaming and health applications; Bristol Robotics Lab, a joint venture of the University of the West of England and University of Bristol; and the Centre for Creative Computing at Bath Spa University.  New initiatives include Bath University's Automotive Propulsion Institute, the Bristol VR Lab and UWE Bristol's Health Technology hub.
Together the four universities were a major source of graduate talent, meeting the needs of local businesses – over half of all graduates qualify in science, technology, engineering and maths (STEM) and there is a strong focus on entrepreneurship and enterprise across many courses. 
There is strong support as well for business start-up and growth with SETsquared incubators ranked the top in the world, at the University of Bath and University of Bristol's Engine Shed; Future Space at University of the West of England; UWE Bristol's University Enterprise Zone; the Network for Creative Enterprise;; and the recently announced Creative Industries Cluster – a partnership of all four universities, the Watershed digital media centre and industry partners.
Another major factor which has established the city region as a major innovation force is the hard core of 'anchor' organisations and outstanding individuals across the two cities. Historically many current leading-edge companies in the city-region have their roots in earlier innovation, investment and business growth. UK semiconductor firm Inmos was a formative influence.  Hewlett Packard, itself much smaller now than at its peak, has however been a major part of the technology landscape bringing thousands of engineers, scientists and consultants to the city, many of whom have gone on to work for other companies or start their own. 
Aerospace giants Rolls-Royce and Airbus draw on numerous suppliers and subcontractors. The MoD's Defence Equipment and Support organisation at Abbey Wood, itself a massive employer, has also been a magnet for defence supply companies locally. While the BBC and Aardman Animations have played a huge role in the evolution of the commercial TV and film-making industry which employs 3,700 people, the third largest cluster of its kind in the UK.
The report also shows how outstanding individuals in the innovation space have been instrumental in linking innovation and cultural assets to nascent businesses, established regional organisations, universities and other stakeholders across the city-region. 
SQW Group chairman Sir Michael Lyons, a non-executive chairman of the English Cities Fund and former chairman of the BBC Trust, said: "The scale of achievement and the trajectory of development are such that the Bristol-Bath city-region already represents an innovation cluster of potentially global significance and one that could aspire, more ambitiously, to follow in the footsteps of North American power-houses such as Seattle or Boston."
West of England Metro Mayor Tim Bowles added: "This study shows that we are a great place to innovate and that we've got so much to offer innovators in the region and inward investors.  It is important that we take on board recommendations of the report in order to build on the reputation we have worked so hard to establish over the years and fulfil our true global potential.
"That means making sure we bring through the next generation of innovation leaders in the region; create the conditions for firms to scale-up from start-ups to beyond medium sized businesses; further develop the specialist skills-base, as well as talent from all corners of the community, that will be critical to attracting investment by major technology corporates and enable rapid growth by local firms.
"We also need to address infrastructure challenges – affordable housing and employment space, congestion and mobility – to ensure we can accommodate the very best innovators in years to come and earn our right to be seen as a global force in innovation."
West of England LEP chair and UWE vice-chancellor Prof Steve West described the report as a landmark study for the West of England and a "real wake-up call". 
"It is telling us how fantastic we are," he said. "But it is also telling us how much more we could achieve if we all work together to realise the potential that is identified here – and that means all of us recognising and getting behind the strengths of our business communities, innovators and entrepreneurs." 
The report was launched on Wednesday in Future Space, part of the University Enterprise Area on UWE's Frenchay Campus, by co-author Christine Doel, pictured top.
It was followed by a panel discussion on its findings with Becky Sage, chief executive of Bristol tech firm Interactive Scientific, Clare Reddington, creative director, Watershe, Laura Lafave, chief technology officer, OnCorp, Martin Sadler, OBE, special adviser to the vice-chancellor of the University of Bristol on industrial strategy, Dr Zara Nanu, chief executive, Gapsquare, and Ben Shorrock of TechSPARK, pictured above.