More than 100 firms in Bristol and across the West of England have signed up to a regional Good Employment Charter which pledges to pay staff a Real Living Wage and clamp down on the use of zero-hours contracts.
Introduced by Metro Mayor Dan Norris as part of a campaign against poverty pay, it also commits employers to protect workers during the cost-of-living crisis.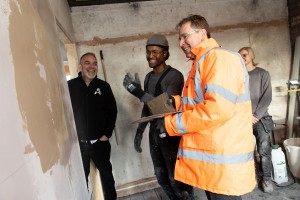 Among firms signed up are Bristol-based animation studio Aardman and open banking app Moneyhub, also headquartered in Bristol.
In total, the 100-plus firms to sign the charter support more than 7,000 workers – with a further 200 companies in talks to sign up, according to Mayor Norris, who heads the West of England Combined Authority.
More than 15% of the West of England's workforce earn less than a Real Living Wage – which is £10.90 an hour outside London – with an estimated 11,000 workers on zero-hours contracts.
One of the first businesses to sign up to the charter was architecture and construction social enterprise Hawkland, which Mayor Norris visited to see it in action, pictured.
He said: "This is a significant milestone. No matter what job you do, everyone deserves to be properly paid for the work in decent, safe conditions and with clear opportunities to progress and develop.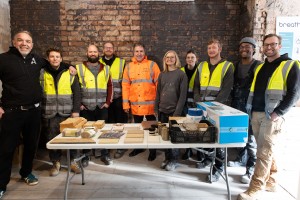 "I want to praise the brilliant employers we have in the West – those like Hawkland, which are ensuring warmer homes across our great region.
"And where there are employers who want to do the right thing by their workers and join me in the battle against low pay and poor working conditions, I want to work with them to take them on a journey to doing better.
"As a 'jobs-first' mayor, I'm delighted to see so many employers starting that journey with my combined authority already and would encourage others from across the West to get involved and help make our region the best it can be."
Hawkland directors Chris Hawker, David Copeland and Ben Nother told Mayor Norris how their company is investing in their number one asset – their workforce – through enrolling their workers on a mental health and wellbeing course and measures to ensure they have a good work/life balance.
David Copeland said: "As a social enterprise, we have focused on developing a positive and inclusive culture right from the start.
"Now that we are expanding, it is becoming even more important that we are setting in place the right principles and strategy that will provide the foundations for this next phase of growth."
The 100-plus charter backers will now be supported to raise standards across a number of areas, including with flexibility at work and recruitment and progression, with a tiered approach to help them progress.
Firms receiving funding through the West of England Combined Authority's investment funds will be required to become charter supporters, the mayor added.
There are two tiers of membership for the West of England Good Employment Charter:
Supporters – working with aspiring organisations to help them take steps to improve their own practices, including through a personalised action plan, workshops and other events, raising employment standards across the whole region, to meet the requirements of accreditation.

Membership – requiring employers to demonstrate excellent practice in key characteristics of employment practice including secure work; flexible work; a real living wage; workplace engagement and voice; excellent recruitment practices and progression; excellent people management and a productive and healthy workplace.