South West chartered accountancy firm Milsted Langdon has taken a major step towards its ambition of becoming a fully sustainable and innovative business by completing a refurbishment of one of its offices.
The transformation of the firm's Taunton base, its largest, includes a reshaping of the office space to create a more modern work environment, pictured below, while allowing for further growth, as well as a spacious coffee-shop style lounge area for staff and contemporary client meeting rooms.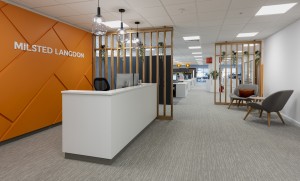 The move is part of ongoing plans at Milsted Langdon, which also has offices in Bristol, Bath and Yeovil, for continuous improvement around sustainability and innovation.
The firm had already started its journey to a more sustainable future by going paperless across all its offices.
Further eco-improvements as part of the Taunton office refurbishment include the installation of roof-top solar panels and an electric vehicle charging point in the car park as well as new energy saving lighting and air conditioning system.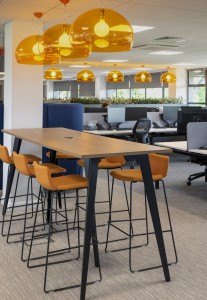 Milsted Langdon chairman Tim Close said: "Completing this project was a huge achievement and we're seeing significant improvements for our staff already. 
"Although it meant that the office had to close whilst building work was carried out, it wasn't an issue – the pandemic has illustrated how we can be flexible and work remotely with no impact to client service.
"Our designers worked closely with an internal project team to understand our brand and the way we, as a firm, want to work going forward, and the new office reflects a modern and flexible approach, with innovative and sustainable workplace solutions to help our people thrive." 
Milsted Langdon, which employs 22 partners and around 230 staff, is recruiting for a range of roles at the refurbished office in Taunton, as well as in its other offices.
The firm offers a wide range of business solutions, from routine compliance matters to specialist tax advice and planning, corporate finance, business intelligence, insolvency, forensic accounting and mediation services.