ADLIB, the Bristol recruiter in the technology, data, marketing and creative sector, has become the latest firm in the city to be certified as a B Corporation
The prestigious accreditation recognises ADLIB's long-standing belief in business for good, its people, supporting the community, driving diversity and inclusion and working hard to be 'more than a recruitment company'.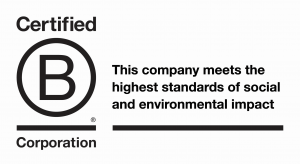 B Corps businesses must meet the highest standards of verified social and environmental performance, public transparency, and legal accountability and aspire to use the power of markets to solve social and environmental problems.
ADLIB believes the essence of B Corp has run through its blood since its launch but this year it was presented with the opportunity to formalise that commitments to social enterprise, the community, people and the environment via the B Corp accreditation. The firm said it grasped it with both hands.
MD Nick Dean said: "This is a golden moment in ADLIB history and the start of something even greater. With a projected 20% headcount growth in 2019/20, the B Corp Certification has not only solidified the commitment the team has made to each other, the community and the environment, but also gives us a platform from which to recruit and attract those that want to join us on our mission."
ADLIB joins more than 2,500 Certified B Corporations from around the world with Bristol boasting the largest number in the UK outside London. Among B Corps members in the city are ethical bank Triodos, Neighbourly, Pukka Herbs, Greenhouse PR and Resource Futures.
Certified B Corporations are for-profit companies that use the power of business to build a more inclusive and sustainable economy. They meet the highest verified standards of social and environmental performance, transparency, and accountability. To date, there are more than 2,500 B Corps in 130 industries and 60 countries around the world.