Future Space, the science and tech hub on UWE Bristol's Frenchay Campus, has achieved record results in its third year of operation.
During the year the centre, which is managed by Oxford Innovation on behalf of the university, reached full capacity with more than 50 businesses occupying its offices, labs and workshops.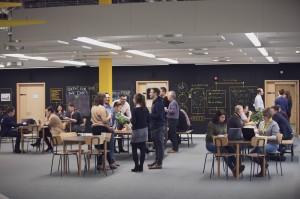 Tenant businesses span a wide range of sectors including robotics, health tech, life sciences, artificial intelligence, fintech and microelectronics.
These firms have created more than 300 high-value jobs and contributed £9m-plus to the regional economy.
They also raised £10m in finance this year from grants and investment, nearly half of it – £4.7m – by robotics start-up Open Bionics.
Founded in 2014, the company was based at Future Space for more than three years, designing and engineering the next generation of accessible bionic limbs, including the Hero Arm, the world's first clinically approved 3D-printed bionic arm.
Future Space innovation director Laura Stevens said: "We are all very proud of what we have achieved so far, a real testament to the hard work of our team and our close collaboration with UWE.
"We have an amazing community of businesses in Future Space, their success drives our achievements, making this an incredibly exciting place to work in every day."
Future Space sits at the heart of the University of West of England Enterprise Zone and is co-located with the Bristol Robotics Lab and Launch Space, the incubator for recent graduates setting up businesses.
Among Future Space's success stories is technology company Homelync, which graduated from the Hardware Incubator in the Bristol Robotics Lab into Future Space and has since grown rapidly, winning best Big Data/IoT Project of the Year at the Computing Digital Technology Leader Awards.
UWE pro vice-chancellor of research and enterprise Martin Boddy said: "After just three years in operation, Future Space has achieved incredible milestones in terms of innovation and high-value job creation driving the growth of the regional economy – exceeding all expectations.
"We are seeing ever-growing collaboration and joint working between Future Space businesses, university researchers, our students and recent graduates – a real win-win relationship and exactly what we had aimed for with Future Space and the University Enterprise Zone as a whole.  There is a fantastic buzz about the place.
"We are already looking to create Future Space 2, grow-on space for expanding businesses and new prospects in lab-based initiatives in life sciences and related areas as part of our ambitious 2030 strategic plans."