Bristol integrated services contractor Mobius Works is targeting an annual turnover of £10m – up from £4.8m last year – as it continues to go from strength to strength.
The Warmley-based firm is behind the design and fit-out of many of the shipping containers in Bristol's innovative Cargo development at Wapping Wharf as well as high-profile pubs, bars and hotels across the country.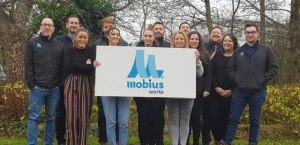 Launched by its three founders in 2017, it ended 2019 with 49 permanent employees and doubled its turnover.
During the year the firm developed a new, modern office suite in Bristol for major home improvements and interiors company Gardiner Haskins and created the city's newest co-working space, Gather Round, in Southville's old Cigar Factory.
It also worked with organic Somerset dairy firm Yeo Valley on its showpiece cafe in London, continued to fit-out Bristol-based Loungers Group's expanding network of café/bars and work with clients Premium Country Pubs, Vintage Inns and Harvester.
Alongside these, Mobius Works also completed £1m worth of projects for independent renovations.
Key hires among its new recruits last year were business development manager James Barnacle, quantity surveyor Paul Abbott and senior contracts manager Alex Reeves.
It now expects its turnover to climb further to reach £7m for the 12 months to the end of March and £10m for this calendar year.
MD and founder Lee Bignell said: "It's been a fantastic year for Mobius Works with some standout projects in Bristol and beyond, none of which would be possible without the support of our brilliant team.
"We're particularly proud that as we grow, we've been able to have even more of a positive impact on our local community, both by nurturing apprenticeship talent and by supporting important Bristol charities Empire Fighting Chance and Community of Purpose."
The firm is expecting to hand over £10,000 to Bristol boxing charity Empire Fighting Chance.
Mobius Works has also enjoyed success with its apprentice scheme, encouraging and supporting a new wave of passionate, enthusiastic and motivated trainees and introduced schemes for mental health awareness in the workplace.
Business development manager James Barnacle said: "It's been an incredible year. No two days have been the same and the breadth of clients we have been honoured to work with has been second-to-none. The team feels stronger than ever and we are all looking forward to the challenges and projects that 2020 will bring."
Mobius has also received a £40,000 'Set for Growth' grant from UWE and NatWest to invest in a new IT system, expand its fleet and take on new staff.