Full-service national law firm Shakespeare Martineau has made two promotions in Bristol and confirmed the office head and deputy.
The firm, which expanded into the South West for the first time last year when it completed its merger with historic Bristol firm GL Law, said the moves were part of its accelerated growth strategy.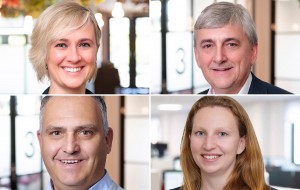 Partner Heledd Wynn has become an equity member in legal and professional services group Ampa, of which Shakespeare Martineau is a leading legal brand, while Emma Burnett has been promoted to associate in the residential conveyancing team.
Pictured, clockwise from top left: Heledd Wyn, Richard Hill, Emma Burnett and Nick Jones
Meanwhile, commercial property partner Richard Hill will retain his role as head of the Bristol office for a further three years, supported by new deputy, employment partner Nick Jones.
Heledd, a private client expert specialising in future planning, provides advice and guidance in respect of Wills, Powers of Attorney, long-term care, and asset protection for private individuals and business owners. She also provides advice on inheritance tax and trusts.
Emma specialises in property law and acts for clients wishing to buy or sell, complete transfers and re-mortgage residential property.
She has developed a breadth of experience across a range of property transactions from small retirement flats to large property portfolio work, as well as assisting people with the extension of their lease terms.
Meanwhile, commercial property partner , employment partner in the South West hub.
Across their three-year terms, Richard and Nick will lead plans to grow the firm, which employs nearly 60 people, in Bristol.
This will include playing a critical role in shaping a positive and collaborative culture with the regional business community and supporting local people.
Shakespeare Martineau said the appointments and promotions were part of an ongoing commitment to reinforcing and strengthening its footprint and expertise in the UK – providing legal and professional services support to businesses, leaders and people at the heart of communities.
Richard Hill said: "Location means a lot to us and our clients and, unlike other firms that are retreating from local office footprints, we are expanding.
"As well as widening our talent pool, this benefits our clients by giving them direct access to legal experts who know and are embedded in the local market, and who are supported by our full-service national offering."
Heledd added: "I'm so thrilled to have been promoted into the membership. There are huge opportunities available to me and the wider team from being part of Ampa – from additional training, a greater pool of experts to specialist support from business operations teams. It's great to see the firm investing in its people and in Bristol."
Shakespeare Martineau, as part of Ampa, is a certified B Corporation, meaning it is legally required to consider the impact of business decisions on its people, customers, suppliers, communities and environment, ensuring a balance between purpose and profit.
Ampa, which employs more than 1,400 people across its 18 UK hubs, also includes consumer law firm Lime Solicitors, planning consultancy Marrons Planning, uninsured loss recovery experts Corclaim and cyber security consultancy CSS Assure.