Stirling Dynamics, the Bristol-based specialised advanced engineering firm, is to step up product development after selling a majority stake to private equity house Endless.
The firm, which employs 102 people, provides advanced engineering design services to the aerospace, marine and energy sectors focusing on active control technologies, aerospace engineering and control theory.
Its diverse product range includes high-fidelity control systems for flight simulators – it is working with US aerospace giant Lockheed Martin on simulators to train pilots for the new F-35 Joint Strike Fighter. Other customers include BAE Systems and AgustaWestland.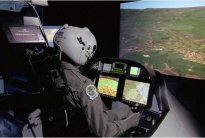 The investment by Endless, which has come through its £7.5m Enact dedicated SME fund, will help Stirling further develop its F-35 flight simulator products.
Enact today said it had ambitious plans for the 27-year-old firm with significant capital to be invested in supporting the development of the existing product range, continued product diversification and enhancing its consultancy services offering.
Financial details of the deal have not been disclosed. Enact investment director Chris Cormack joins Stirling's board and will support the existing management team, led by managing director Stephen Judd. Stirling founder Robert Stirling remains with the company as its president.
Mr Cormack said: "Stirling Dynamics has an excellent reputation and track record, backed by 25 years of accumulated experience, IP and know-how in the advanced engineering sector and we are delighted to support the existing management team in delivering their plans for further growth.
"Our investment not only puts in place a succession planning strategy for the business going forward, but also provides scalability of supply to the existing product range, particularly around military training simulations for the F-35 jet fighter programme. With this and other blue chip client partnerships in global markets including Europe, the US and Asia, Stirling Dynamics is in a strong position to grow and build on its success to date."
Mr Judd added: "Enact was carefully selected by the existing management team as the investment partner of choice, to take Stirling Dynamics to the next stage of its development. Facilitating our plans for growth through investment capital and management support, Enact will provide the tools necessary to achieve our aspirations whilst valuing the key attributes that are the essence of the company."
It is Enact's second deal following the investment in West Cornwall Pasty Company earlier this year.
Mr Cormack said interest in the fund remained high. "We are in advanced discussions with a number of other businesses and are hopeful of announcing further transactions shortly," he said.
Enact was advised by Simon Pilling and James Cook of Gordons, and Russ Cahill of the Tax Advisory Partnership.
Enact was officially launched by Endless earlier this year with a strategy to invest in businesses that have a robust business model, but are facing cash flow constraints, strategic or operational issues.
Members of its advisory board include retail entrepreneur Tim Whitworth, banker Wayne Bowser, former England footballer Danny Mills and business advisory expert Stuart Counsell.