A director in Smith & Williamson's Bristol office has indulged his out-of-office passion at the city's cathedral – when he conducted a full symphony orchestra.
Tom Gauterin combines his day job in the office's private client tax services team with being the founder and self-taught conductor of the Bristol Classical Players.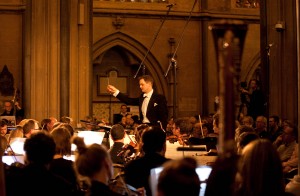 Tom conducted Gustav Mahler's 'Resurrection' Symphony No. 2 at a concert sponsored by Smith & Williamson at Bristol Cathedral, pictured.
The concert also featured the Bristol Cabot Choir and Bristol Phoenix Choir, along with soprano Charlotte-Anne Shipley and mezzo Jenna Brown.
Tom said: "Mahler famously said that a symphony 'should contain the whole world' and in the mighty Resurrection Symphony, it certainly feels like it!
"There were 250 performers at the concert, which marked Bristol Classical Players' 10th birthday. It was hugely exciting to be able to conduct such a great work and to work with so many Bristol musicians."