Bristol start-up Inclued, which has developed software that helps content creators identify bias as it happens, has won an 'elevator pitch' contest that traditionally opens doors to potential investors.
Inclued's AI-based technology helps marketers connect with their audience by spotting and removing unconscious biases in digital content, as well as providing data, insight and educational resources to implement inclusive marketing.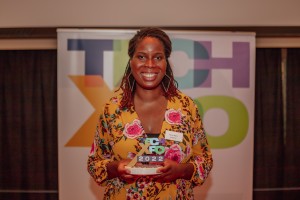 CEO and founder Joyann Boyce, pictured, was one of nine start-ups to make one minute-long pitches to an invited audience at Tech-Xpo 2022, which was staged by SETsquared Bristol, the University of Bristol-backed incubator that grows global tech businesses and helps them to make an impact in the world.
Now in its 18th year, Tech-Xpo is SETsquared Bristol's flagship pitch, demo and connect showcase that provides a platform for start-ups to promote their innovative technologies to an audience of influential investors and business movers and shakers.
This year's event took place at St George's Bristol, as well as being livestreamed.
Inclued joined SETsquared Bristol in 2021 via its Breakthrough Bursary that supports Black, Asian and Minority Ethnic entrepreneurs to grow their tech start-ups.
It was recently awarded the Trailblazer Award grant from Bristol + Bath Creative R+D, while Joyann was named among the 30 under 30 by Rife Magazine, as well as a Change Maker by BIMA100.
She said: "We truly believe that with the right companion software, marketers can create content which is truly inclusive.
"Winning Tech-Xpo is validation to this mission and has given us exposure to a network of people to make the change happen.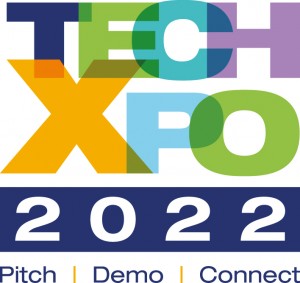 "I am excited to continue my investment readiness journey with the support of the SETsquared team."
Previous Tech-Xpo competitors have gone on to achieve notable success. Last year's winner Ferryx, whose founder Jenny Bailey spoke at the recent event, recently closed its first investment round of £305,000 to progress development of its bacterial product for prevention or treatment of gastrointestinal inflammation.
KETS Quantum Security, the 2020 winner, has since raised £3.1m pre-series A, as well as securing a £11.6m grant to develop quantum-safe communications for the UKRI funded Quantum Data Centre of the Future project.
SETsquared Bristol director Marty Reid said: "Inclued was a well-deserved winner of the Best Elevator Pitch award, which was no mean feat considering the exceptional line-up of talent and pitching prowess on show.
"Joyann has brought her industry expertise, together with some great technology, to build a venture with real potential to scale and solve one of the most significant business and cultural challenges that large organisations face today."
Long-term supporter of the event, Bristol law firm VWV corporate partner and head of its technology sector Nathan Guest, pictured with Joyann, added: "Tech-Xpo 2022 was another fantastic showcase for SETsquared Bristol and the companies it supports.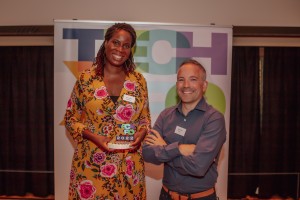 "Many of those start-ups have celebrated significant fundraising and other milestones during the last year, and we have been delighted to support many of those deals.
"Having seen so many excellent businesses showcased at Tech-Xpo, I am very confident that the next 12 months will see many more positive investment deal announcements emerging from the SETsquared stable of companies." 
Tech-Xpo 2022 was sponsored by VWV, SIEMENS, OnePLM, FD Works and Rocketmakers.
The other start-ups taking part in this year's Tech-Xpo were: