The University of Bristol has sold all its shares in fossil fuel businesses after calling in ethical investment experts based in the city.
The university's landmark decision to review its holdings in the most carbon-intensive sectors came after a campaign by the university's Fossil Free Society, which praised the move as "one of the clearest and most wide-ranging in Britain".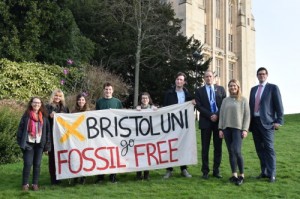 The university also last year pledged to focus investments in the energy sector on companies which are having the greatest impact on reducing carbon emissions. 
As part of this new policy, the university employed Bristol-based Rathbone Greenbank Investments as its new fund manager with a goal to reduce the carbon emissions profile of its endowment assets invested in the energy sector.
Rathbone Greenbank Investments provides specialised ethical and sustainable investment services for investors who wish to ensure that their investments take account of their environmental, social and ethical concerns.
Its team manages £1.1bn for individuals, charities, not-for-profit organisations, trusts, and pension funds.
Rathbone Greenbank Investments head John David said: "We are delighted to be helping the University of Bristol manage its investments in a way that is consistent with its environmental objectives.
"Divestment from companies engaged in the production of the most damaging fossil fuels is just one element of a broader strategy to invest sustainably.
"As investment managers specialising in ethical and sustainable investment, we work with our clients to integrate a wide range of social and environmental factors into the management of their portfolios.  
"Evidence is growing that the integration of such factors into the investment process is more than just the 'responsible' approach. It can also contribute to longer term returns through the management of a wider range of risks and the identification of emerging investment opportunities."
University of Bristol chief financial officer Robert Kerse said: "Our aim was to end investment in companies that derive more than 5% of their turnover from the extraction of thermal coal or oil and gas from tar sands by January 2018.
"I am very pleased that we have achieved this aim which supports the University's strong commitment to sustainability and fighting climate change."
The university has also been actively managing the wider impact of the Endowment Fund investments on climate change.  Embedded carbon in fossil fuel reserves associated with the Endowment Fund investments have decreased by 78% over the past nine months from 280,742 to 62,289 tonnes of greenhouse gases. 
The carbon footprint of investments in the energy sector has also reduced from 557 to 413 tonnes of greenhouse gases per £1m invested.
The university's divestment follows two recent high-profile cases. In December World Bank Group president Jim Yong Kim announced that the bank would cease financing upstream oil and gas after 2019; and, in the same week, New York City pledged to fully divest $5bn from its pension fund.
Robin Boardman, from the University's Fossil Free Society, said: "It's really exciting to see that our university has followed through its commitments to cut ties and stop supporting some of the worst climate offenders.
"This large carbon reduction is a great step in the right direction and we look forward to continuing such positive communications with the university to further reduce the remaining 60,000 tonnes of greenhouse gases still owned by the University's investments in fossil fuel companies.
"Following New York City, the World Bank and other universities' examples, we will be working with the university to achieve a completely fossil free portfolio as soon as possible."
The university's strategy, launched in 2016, outlined its commitment to sustainability and addressing social and environmental challenges.
A key ambition is to be become carbon neutral by 2030, setting an example for the higher education sector.
Pictured above: Members of the University of Bristol's Fossil Free Society with, on the right, deputy vice-chancellor Prof Guy Orpen, Paloma Parkes from the Fossil Free Society, and university chief financial officer Robert Kerse