A group of construction companies have been praised for helping create Bristol's futuristic Martian house – a unique collaboration between artists, scientists, architects and engineers showing what life could be like on the red planet.
The Southern Construction Framework (SCF) and its member firms rallied behind the pioneering, five-year project spearheaded by Bristol artists Ella Good and Nicki Kent. 
The pair approached SCF to help turn their vision into reality. Thanks to the firms' efforts the full-scale, two-storey gold inflatable house, pictured, is now open to the public next to M Shed on the Harbourside.
Led by SCF Construct, the construction firms – which included BAM, Galliford Try, ISG, Kier, Morgan Sindall, Sir Robert McAlpine, Wates Construction and Willmott Dixon – donated time, expertise and materials worth an estimated £170,000 to bring the art project to life.
SCF senior framework manager Emma Bull said the move underlined its commitment to promoting collaboration.
"It's fair to say we're all very proud of the Martian House project, and I'm on cloud nine seeing the building form over the last few weeks after over a year of development and coordination," she added.
"Collaboration is at the heart of everything Southern Construction Framework does, so we're all delighted to have played a role in creating the truly extraordinary Martian House by bringing together leading contractors.
"The way the companies in Southern Construction Framework's supply chain have collaborated is also extraordinary and for nine separate bodies to come together on an artistic project appears to be unprecedented.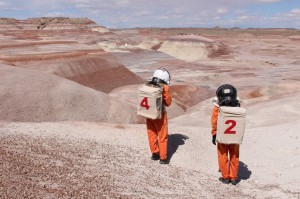 "Working together and throwing their weight behind the Martian House project, speaks volumes about our partners' commitment to unite in support of the communities where they work and make a positive difference to public spaces."
The project, which has brought together space scientists, architects, engineers, designers and the public, aims to explore how we live today while stimulating visions for new ways of living on Earth and on Mars.
Artist Ella Good said: "This project has been a huge collaboration, involving all kinds of different people, from space scientists to schoolchildren.
"Southern Construction Framework embraced this spirit of collaboration by bringing together an amazing team of contractors who have been hard at work building our Martian House. We simply could not have brought the project to life without their help."
Nicki added: "Considering how we might live on Mars helps us re-think every aspect of our lives here on Earth.
"Mars is a place where you'd have to live carefully and sustainably and so helps bring sharp focus on how we live today. Our project shows that we can all have input into how we think about the future."
The concept design and build was worked on by London-based Hugh Broughton Architects and design firm Pearce+, who took the artists' ideas and public input on board in bringing the house to life, with the help of engineering consultancies Hydrock and Buro Happold, and innovators in inflatable design Inflate.
Bristol scientists Dr Lucy Berthoud, Dr Bob Myhill and Prof James Norman were part of the team of consultants involved in the project.
A three-month programme of workshops, talks and events for all ages is now under  way, including a live panel discussion with the design team.
Pictured above: Ella Good and Nicki Kent dressed in astronaut suits at the Mars Desert Research Station in Utah (photo courtesy of Satori Photos)