Bristol science and tech hub Future Space has teamed up with city-based communications agency Purplefish to launch a programme of advice and support to businesses for businesses across the South West.
The free, virtual advisory sessions have been helping firms based at the hub on UWE Bristol's Frenchay campus plan and generate ideas for marketing and communications as the coronavirus lockdown begins to ease.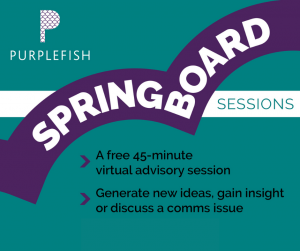 The hub, which is co-located with the Bristol Robotics Laboratory and Health Technology Hub, connects entrepreneurs and tech innovators with scientists, researchers and graduate talent – to spark collaboration, innovation and growth.
Now Purplefish's experts will be able to guide firms not based at the hub with the 45-minute Springboard sessions, enabling them to come up with creative ideas that fit a specific brief or solve a pressing comms issue.
Based at Bristol's Paintworks creative quarter, Purplefish offers communications services spanning public relations, social media and marketing support, video and content, events and experiential and strategic issues consultancy.
The 12-strong team works with a diverse client portfolio in sectors ranging from property, hospitality, not-for-profit and community to consumer brands, tech and business services.
Managing director and founder Joanna Randall said: "It's essential not to switch off communications efforts in a period of great uncertainty, and now is the time to be putting plans in place as businesses start reintroducing staff back to the workforce and hopefully entering a new phase of opportunity.
"We encourage companies to take full advantage of our offer – no matter the sector or size of business, we're here to help and we will be extending this out to other businesses across the region in the next few weeks."
Newly recruited innovation manager at Future Space, Aimee Skinner, added: "We're always looking for new ways we can add value and support our resident companies as that's the true benefit of being part of a likeminded and dynamic community.
"We hope these will be the first of many sessions offered to our residents, as part of our new programme 'advisory space'
"We're delighted to be piloting this scheme with our resident communications agency partner Purplefish – collaboration and support between businesses has never been more important than now."
Run by Oxford Innovation, Future Space is part of the University Enterprise Zone at UWE, which is supported by the Department for Business, Energy & Industrial Strategy and the West of England Local Enterprise Partnership (LEP).
It has contributed more than £9m to the regional economy since opening in 2016. Nearly 300 people now work in high-value science and technology jobs at the centre in businesses representing a range of sectors from robotics and biosciences to artificial intelligence and microelectronics.