Independent planning and research consultancy Nexus Planning is celebrating the success of its new Bristol office, which opened earlier this year and has already generated strong business for the national firm.
Nexus, which has four other offices across the UK, opened the base in The Programme Building on All Saints Street to support an established portfolio of clients across the South West. 

But it has recently secured two prominent Bristol-based city centre and city-wide retail studies, the first of which is already completed, while the second is nearing final stages.
The firm said the newly installed Bristol team had also developed significant new opportunities across a number of sectors, including in its market-leading specialisms of residential planning, strategic land, retail & town centre strategies and advisory, and senior living.
Experienced strategic land expert Tony Clements joined the business last November as director to lead the Bristol office. 
He was previously a partner at Rapley. Prior to that led the Bristol office and regional residential teams at GL Hearn and worked in the Bristol office of RPS as head of planning.
He has already started building a strong professional team, with three associates and a senior planner while further recruitment is planned for later this year.
Nexus said Tony's strong reputation and extensive experience, spanning a wide range of private and public sector clients, coupled with a strong track record in successfully promoting and managing the delivery of large-scale residential developments, made him a natural fit for the office lead role.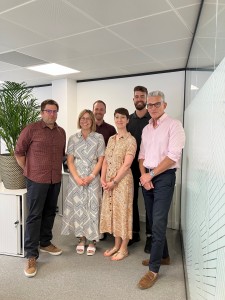 Nexus Planning managing director Roger Tustain said: "As a business we've been increasingly active in the thriving South West region.
"It's made perfect sense to set up a base to offer existing and new clients a local service which also has the ability to support our national planning expertise.
We see Bristol and the South West as a major growing investment market and we're very encouraged by the response so far.
"Tony is a perfect fit for our business style and culture, we're immensely pleased to have him on board."
Tony, pictured, far right, with the Nexus Bristol team, added: "I have been aware of Nexus' excellent reputation within the market for some time and was particularly attracted by the dynamic approach to developing a client-focussed business that values its staff and working culture highly.
"The ambitious growth plans that the business has and the obvious synergies between Nexus' existing client base and the clients I have been advising in the region since the early 2000s was in my mind a perfect marriage.
"The newly formed team and I have hit the ground running, and it has been an energising and exciting few months."
Nexus, which is just shy of its 10th year of operation, has grown almost 10% in the past 12-months alone and now has a team of 44 across its offices in Reading, London, Manchester, Birmingham and Bristol.