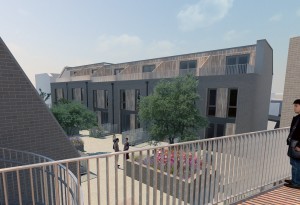 Construction work is about to start on Bristol's first new-build Passivhaus development – homes and shops needing little or no heating as they are so well insulated.
The pioneering project, on the site of a long-abandoned Gala Bingo building in North Street, Bedminster, is the latest in a growing list of positive developments for the south Bristol suburb – and adds another dimension to Bristol's sustainability credentials following the recent announcement that it is to be European Green Capital for 2015.
Behind the innovative scheme, thought to be worth several million pounds, is Bedminster property specialist Urbis Development, perhaps best-known locally for transforming the Robinson Building near East Street from a neglected factory into a popular development of more than 100 apartments.
Its latest project applies low-energy Passivhaus principles throughout the development with water heated by solar panels. The properties will not be connected to the mains gas.
The scheme, work on which starts this month, will be funded by the Bridges Sustainable Property Fund, managed by specialist fund manager Bridges Ventures, which invests in properties in regeneration areas and those showing environmental leadership. The team at Bridges will work closely with Urbis to create one of the most sustainable developments in the city.
Demolition of building will take place this month with full site clearance expected by the end of August. Building works for the project will be underway in September, with 26 residential units planned.
The main phase of the development will be ready for occupation in late 2014 with the apartments and commercial units finished first. The houses should be ready in the first half of 2015.
Urbis managing director Richard Clarke said: "Bedminster is a fantastic area and we hope our sustainable development will provide another boost to this attractive part of the city. We think this eastern end of North Street has great potential, with some brilliant businesses here already plus a strong and growing leisure economy. Every new investment and new business helps, and we want to play our part.
"We want to make a start on construction as soon as possible. The planning has been agreed so it should be all systems go from here."
The development has been designed by Bristol architects practice Origin 3 Studio to be highly insulated and energy efficient – so efficient, in fact, that heating will barely be needed, even in winter.
Russ Green of Origin 3 said: "As far as we know they are the first of their kind in a Bristol new-build development. Passivhaus is a German low-energy standard that means the buildings will need very little energy for heating or cooling because they are so well insulated. It's fantastic for the environment and also for residents, who should see typically hundreds of pounds a year cut from their utility bills compared with conventional properties."
Guy Bowden, acquisitions director at Bridges Ventures, said: "We are delighted to be working with Urbis on this exciting project that we hope will set new standards for energy efficiency in a city that is already showing leadership in this area. In addition to the sustainable features of the project, we are investing in a very strong residential area with potential to deliver attractive returns for our investors."
Ben Barker, secretary of the Greater Bedminster Community Partnership, a neighbourhood partnership where local residents, businesses and the council come together, also welcomed the project.
"This is great news for the eastern end of North Street," he said.
"The Gala Bingo building has been derelict for many years. These plans, to create more than 20 homes plus some retail space, are just what's needed. A development like this will bring money into Bedminster while the building works are carried out and then bring in lots of new residents too. It's good for all the local businesses and for the community as a whole."
Mr Barker said the Urbis development plus recent activities around East Street illustrated Bedminster's growing appeal as a place to live and work. The south Bristol suburb was recently named a Portas Pilot area by the Government, entitling it to £100,000 of investment in its high street to help boost its appeal and to fill any empty shops.
Planning for the Gala Bingo building project has taken some years and Barry Muggridge, an agent with local property consultancy Rowley Hughes Thompson, said: "We are delighted that, after such a protracted planning process, this development is finally ready to push ahead. It will benefit businesses and local residents – and Urbis has a great track record of delivering in Bedminster. If the units start to reach the market in late 2014, as billed, it will be good news for everyone."