A fledgling Bristol firm behind a world-first composites manufacturing process that could revolutionise the way aircraft and vehicles are made has won top prize in the University of Bristol's New Enterprise Competition (NEC).
iCOMAT has created, through patented technology, two prototypes that have enabled it to manufacture a range of ultra-light but strong components without causing defects.
Its method places carbon fibre tapes along curved – rather than straight – paths. With weight reductions of up to 30% compared to traditional straight fibre composites, cost and productivity have been improved as fewer raw materials have been used.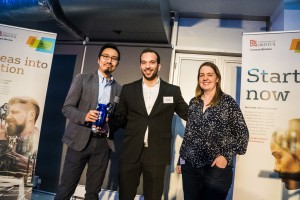 iCOMAT, which was founded by Bristol PhD student in Advanced Composites Evangelos Zympeloudis with entrepreneurs Eric Kim and Nigel Salter, wins funding worth £10,000 by landing top spot in the NEC. 
Pictured: Eric Kim and Evangelos Zympeloudis of iCOMAT with Jenny Griffiths MBE
The NEC is a business start-up competition which allows students, staff and alumni to pitch for a share of more than £40,000, including legal support and business acceleration services, to accelerate their vision for a commercial or social enterprise.
Evangelos said: "The support we will receive will allow us to bring to the market our novel manufacturing process which delivers lighter, stronger composite products, which are at the same time more cost effective.
"We are addressing a global market which is driven by economic factors and environmental benefits wanting lighter aircrafts, cars and vehicles and our technology will strengthen the UK's position at the forefront of composts manufacturing."
The annual competition offers three opportunities to apply and pitch for start-up funding. It's open to both commercial and social enterprises and includes everything from simple conceptual ideas through to businesses in their first year of trading. The aim of the competition is to provide winners with a launch pad for success. 
The awards were presented by Jenny Griffiths MBE, founder of Snap Fashion and Snap Tech and winner of the 2009 competition with her cutting-edge artificial intelligence and machine learning visual search tool. 
Jenny was recently named as one of Forbes' Top 50 Women in Tech and during the evening spoke about the impact the award has had on her and her business. 
Runners-up with a prize of £3,000 and six months membership of the University of Bristol-backed SETSquared incubator was OptiFit, a software as a service start-up aiming to become the leaders in contactless vital sign technology.
OptiFit's flagship product, HeartView, is a contactless heart rate monitor that enables vital signs such as heart rate level and variability to be detected using a video feed allowing fully contactless heart rate detection.
Beta Bugs, a rapid insect breeding programme based on a combination of innovative trait generation protocols and purpose-built modular systems, won a runners-up prize of £6,000. By expanding on its existing intellectual property and experience, Beta Bugs is producing, with lower operating costs, improved strains of 'elite' Black Soldier flies that are available to commercial insect farmers who supply the larvae protein to livestock feed producers.
Actuation Lab, which will receive 12 months' SETsquared membership, has reinvented the traditional fluid-driven linear actuator, using complex origami inspired structures, to create high-powered, single material, single part artificial muscles. Its patentable design delivers market-leading power-to-weight performance, while allowing for truly customisable manufacture through combining 3D printing with an innovative online tool.
The People's Choice Award – an award voted by the audience following one-minute pitches by all the finalists – was won by Peppercorn, which received £2,000. Peppercorn deals with all the logistics of businesses donating excess food to local non-profits, redistributing it from landfill to people in need.
Other shortlisted business ideas included:  
Liveprize, an app offering a unique 'giveaway' experience, launching on the 19 November. Through gamification and live reaction technology, the app is a permission-marketing platform for advertisers to ensure they have a captivated audience to boost their brand.
Miminal provides bespoke data science solutions to businesses looking to use artificial intelligence by building bespoke, integrated cloud hosted data solutions for growing and established businesses.
Peppercorn deals with all the logistics of businesses donating excess food to local non-profits, redistributing it from landfill to people in need.
Phonebox is the contact network to stay permanently connected to your contacts and stay in complete control of your contact information.
The Cycling App allows cyclists to log their grievances with roads through a simple, easy to use app. The logged points generate heat maps highlighting dangerous areas that the app uses to help cyclists find the safest routes, and to help cities simply and effectively improve their infrastructure.
ThinkCitizen offers a non-conventional alternative to empower people to be independent thinkers in the mass media age.
Neil Coles, Assistant Director of Careers Service, with a responsibility for enterprise and entrepreneurship education, said: "I continue to be amazed by the innovation shown by our collective community here at Bristol.  The New Enterprise Competition Finalists take the lime-light on evenings like this, which they absolutely should, but behind them are many creative individuals who are pushing to establish new lifestyle or growth businesses and we're here for each one of them."
Paul Forster, Community Manager for SETsquared, added: "It's my second year judging the New Enterprise Competition, which is a very lively process, and the quality of the shortlisted business ideas was once again excellent.  All the applicants should be proud for making it to the pitching session. SETsquared place high value on the support we provide for the competition and take the judging very seriously, as we'll be working closely with two lucky companies that have the offer of free SETsquared membership."
Katie Martin, Enterprise Manager, explained: "We work with students from across the University to help them develop and grow their ideas.  The competition is designed to evolve initial business ideas by getting contestants in front of customers early, allowing them to adapt their business models accordingly prior to getting to this stage of the competition."
This year's competition entries were sponsored by IP Group, Santander, Motorola, SETsquared, VWV and Engineers in Business Fellowship.
The judges included Nathan Guest of VWV; Paul Forster, SETsquared; Stuart Plant, IP Group; Tom Barrett, Santander Universities; Suzanne Cole, University of Bristol Centre for Innovation and Enterprise and Emily Kent, One Big Circle.