Bristol-based medical simulator manufacturer Limbs & Things, whose products range from 'arms' with mock blood systems to birthing simulators, has launched its first graduate recruitment scheme as it looks to shape its future.
The Queen's Award-winning firm has been designing and making training equipment and simulators for healthcare professionals since 1990.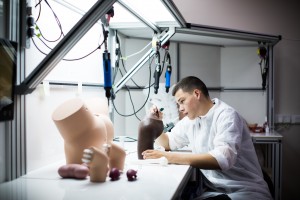 It now employs 185 people in its headquarters and factory in St Philips and exports to more than 70 countries worldwide.
With the global medical training market continuing to expand and develop, Limbs & Things needs to develop a highly skilled workforce for the future.
Its new two-year graduate programme will offer eight graduates a chance to work on a range of projects within the organisation and to gain knowledge of the business and industry – with an emphasis on either a commercial or technical career path.
Four graduates will be recruited this September, with a second cohort of a further four graduates in September next year.
Graduates with a product design, industrial design or engineering degree can apply for the technical programme, while science, medicine, business or marketing graduates can apply for its commercial programme.
The scheme starts as Limbs & Things' expertise is increasingly being called on to meet new challenges.
Over the years its products have taken realism to another level by addressing just about every medical scenario, from routine examinations to emergency interventions.
The products – all designed and manufactured in Bristol – range from breast examination trainers and male examination trainers to midwifery training products such as caesarean section modules.
Limbs & Things managing director Nick Hull said: "This is a unique opportunity to join our team in Bristol and genuinely help shape the future of healthcare worldwide.
"We've put together a broad programme to provide exposure to different departments within the company that will provide a great foundation for individuals who share our vision.
"We're a people-focused, fast-growing business that is actively improving patient outcomes across the globe."
Recent graduate Maisie Lo joined Limbs & Things' marketing department just under a year ago.
She said: "My time at Limbs & Things so far has taken my career and personal development much further than I could have anticipated in just one year.
"Being able to have a hand in nearly all the goings-on in my department has allowed me to develop a broad range of important skills, both specific to marketing and more broadly in a professional environment and has helped shape the career that I want to pursue in the future.
"It also doesn't hurt that I have a wonderfully helpful team and everyone here is very welcoming!"
Limbs & Things was founded by Margot Cooper, a medical illustrator and active member of the Medical Artists Association of Great Britain and the European Association of Medical & Scientific Illustrators, who wanted to move clinical education away from the centuries-old method of using cadavers and animals. In 2013 it won a Queen's Award for Enterprise (Innovation).
The deadline for applications to the scheme is Monday 8 August at 9am. For details on how to apply, visit https://limbsandthings.com/uk/career/39591