Bristol's pioneering pie business Pieminister has shrugged off the unprecedented challenges facing the food and hospitality sectors to grow annual sales by 14%.
The firm, which opened its first venue in Stokes Croft in 2003, achieved sales in the year to March 31 of £14.3m against £12.6m in the previous 12 months.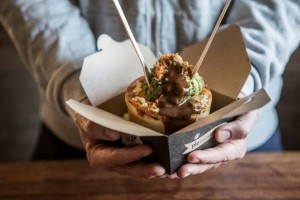 Pieminister's restaurant and franchised channels grew by 23% over the same period, with like-for-like sales in its restaurants up by 13%.
Growth has continued into the first half of its current financial year, the firm said, having already chalked up a 17% increase versus the same period in 2017/18.
It also said it was confident it had taken all necessary actions to continue to grow a strong and sustainable business during the uncertainty over Brexit and the resulting unstable ingredient costs.
The family-run firm, which runs 16 restaurants across the UK, including three in Bristol, said in a year "plagued with uncertainty over Brexit" it had stepped up its commitment to investment and innovation across all areas of the business, from its restaurants and franchises to its production and product range.
There were further improvements in efficiency at its central production facility following "significant and continual investment" which had created a further 20 jobs.
Reacting to the increasing demand for gluten-free and vegan pies, Pieminister further improved its segregated areas to produce more 'free-from' pies.
Out of a total of around 5m pies baked by the firm during the period, close to half a million were from 'free-from' recipes – an increase of over 500% compared to the previous year.
New product innovation also played a key part in Pieminister's success during the year. Investment in a state-of-the-art equipment in the kitchen gave its team the tools to create ground-breaking new products which it said helped widen the appeal of pies to a young and engaged fan base.
Product innovations during the year included two new vegan pies, a series of 'loaded fries' dishes and a range of dairy and vegan soft serve ice cream 'pies'.
The firm also invested in growing its number of restaurants with openings in Liverpool and Sheffield, which created a further 25 full-time jobs.
Across its restaurant estate, Pieminister served more than 550,000 pies, 50 tonnes of mash and 4,500 litres of gravy over the 12-month period.
It said, in line with many other branded restaurant chains, sales from delivery grew during the year and it had become one of the most popular restaurants available on Deliveroo and Uber Eats in cities such as Manchester, Bristol and Nottingham.
Franchising the Pieminister concept into pubs and leisure venues was another area of focus for investment, it said, and it was now a key feature in more than 50 pubs and 24 leisure venues including cinemas and universities. 
The package offers partners a fully-branded, profitable, high-quality menu that Pieminister says is easy to execute, with minimal wastage and no chef required. 
It highlighted Brudenell Social Club in Leeds – a music venue in an urban area with a high student population which sold more than 6,000 pies in the year. 
Pieminister co-founder and MD Jon Simon said: "Our unique business model is proving a real strength in these uncertain times.
"Our restaurants act as a test-bed for product innovation which, together with our franchised operations and ongoing presence at music festivals and weddings, introduces the brand to new people. 
"As a result, the many retailers which stock our pies, including the UK's leading supermarkets, see the benefit of these new and engaged consumers. In turn these revenues allow us to open more restaurants, resulting in impressive growth across our entire business. And so our virtuous 'pie circle' keeps turning.
"By operating across a variety of channels, we're in a position to take advantage of more of the opportunities that arise across the food sector, while being better positioned to avoid some of the challenges that British food businesses currently face. 
"Investing across wholesale, retail and manufacture means we've hit the ground running as we head into 2019, in readiness for accelerated growth in the future"
Pieminister has also more than doubled grocery sales over three years with consistent year-on-year growth. It is now the fastest-growing premium pie supplier in this sector and the leading pie brand in both Ocado and Waitrose, adding £1m incremental category sales in a year.
The firm said its multi-channel approach meant that alongside its own cafes and restaurants, it was in a unique position as a pie producer, able to reach its audience wherever they choose to eat.