A limited edition veggie pie made by Bristol specialist food and restaurant firm Pieminister is to become a permanent fixture on its new summer menu after tasting success in a major awards scheme.
The latest addition to Pieminister's growing plant-based range, the Evergreen, pictured, scooped Gold at the recent British Pie Awards.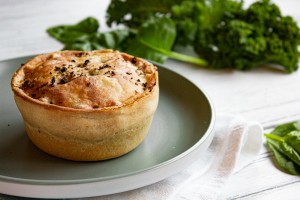 It now joins two other award-winning plant-based pies in the Pieminister range – Kevin (as in Kevin Keegan, vegan) and Chooks Away.
Pieminister describes the pie as "green by name and green by nature – a celebration of leafy greens and beans with kale, spinach and edamame, lightly cooked in fragrant ginger, garlic and lime zest".
Evergreen will become a fixture of the firm's summer offering, which will be available from March 24 and will coincide with the launch of a partnership with Forestry England to plant a new forest in the UK.
The campaign will urge Pieminister customers to get involved in helping plant more trees, although full details of the campaign are still under wraps until the launch date.
The British Pie Awards were held in the pork pie 'capital' of Melton Mowbray, Leicestershire, with 848 entries from 160 professional pie makers, butchers and chefs from around the country.
After an extensive judging process on each pie's appearance, taste and skills by 140 experts, the pies received their awards last Friday.
Pieminister co-founder and MD Jon Simon said: "Since the British Pie Awards began over a decade ago, we've amassed a healthy number of medals and 'best-in-class' accolades, but it's always a thrill to be recognised as one of the UK's best pie makers.
"We're proud that our pies don't just taste amazing, they're also made carefully, with much consideration given to the origin and ethics of the ingredients that we use."
Awards organiser Dr Matthew O'Callaghan added: "We've judged well over 9,000 pies since the awards were first founded in 2009. During that time the quality and range of pies submitted have increased significantly, a tribute to the craft and skills of the British pie maker.
"The British eat more than £1bn worth of pies every year and this is a celebration of the skill and craft of the piemaker. Pies are Britain's unique contribution to world gastronomy."
Privately owned Pieminister became the UK's No1 premium pie brand in the grocery market last April based on sales.
Last year it further established itself as the UK's most ethical and sustainable pie and has an ongoing mission to develop an award-winning vegan range and tempt pie lovers to switch their favourite meat pie for a plant-based alternative.
The firm was launched with a single restaurant in Stokes Croft in 2003 and now employs more than 300 people across its 16-strong restaurant portfolio and central kitchen.