Bristol-based digital pharmacy pioneer Tariq Muhammad is financially backing two young software designers whose app creates seamless communication between pharmacies and their patients.
Tariq, CEO at Invatech Health, whose products have revolutionised the UK pharmacy sector, has become an angel investor in PharmAppy, a business set up in 2020 in a North Wales bedroom by school friends-turned-entrepreneurs Rhys Lloyd and Josh Ablett.
His six-figure investment has given him a minority stake in the firm.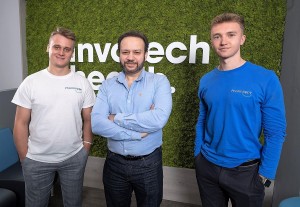 Originally fuelled by a passion to help their grandparents, who were struggling with the shortcomings of modern community pharmacy, their flagship app has since been adopted by more than 600 patients at two local pharmacies.

Pictured: Tariq Muhammad, centre, flanked by Josh Ablett, left, and Rhys Lloyd of PharmAppy
The pair, supported by Tariq, are now aiming to expand the business nationwide to help more patients better connect with their pharmacy and access services more easily.
In addition to Tariq's financial input and mentoring, PharmAppy – now based in Manchester – will benefit from technical support and expertise from Invatech Health's 50-strong team.
Tariq, who developed Invatech Health's flagship product Titan PMR – an innovative, revolutionary cloud-based system which manages end-to-end pharmacy workflow – has no doubts that PharmAppy will digitally transform the pharmacy sector in a similar way.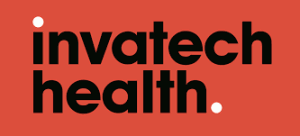 In 2019 Titan became the first patient medication record system to receive industry accreditation from the NHS in more than a decade.
Since then, it has rapidly grown among the independent and online pharmacy sectors. Titan now processes more than 5% of all UK medicine prescriptions – 4m a month – a number expected to double in the next year.
Tariq's investment will fund a rich integration between Titan and the PharmAppy app to create an app that allows much more than simple ordering of medication – using technology to link the pharmacist to the patient.
This could mean ordering and booking additional pharmacy services, tracking medication and communicating directly with the pharmacist.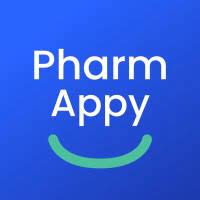 Tariq said: "It's important to state that this is not the first app that Titan has supported, and it won't be the last.
"The Titan Marketplace gives a powerful platform for software companies to integrate their software to Titan and help pharmacists develop and grow their businesses.
"But by working so closely with PharmAppy, we have the opportunity to demonstrate the art of the possible when it comes to connecting pharmacies to their patients.
"I'm an entrepreneur myself and I'm impressed with what Rhys and Josh have achieved. It's great to be able to support their efforts and I'm looking forward to working with them more closely."
Tariq, Rhys and Josh originally connected on LinkedIn before meeting in person at last autumn's Pharmacy Show.
Rhys and Josh, PharmAppy's chief executive officer and chief technology officer respectively and now both in their early 20s, started their first venture aged 14 when they redesigned bespoke football game covers for friends in school.
Having both decided to work rather than go to university, they then set up and ran a web development and marketing company, alongside jobs in catering and the NHS in North Wales.
Josh said: "In the very early days, we worked additional jobs to help cover costs and regularly stayed up until 2am, designing and developing the first version of the app to get the business off the ground.
"It's been hard work, but we've both believed it was the right course of action. Now PharmAppy Version 1 is operational and we've received both positive and constructive feedback from patients and the pharmacy teams, we're looking forward to seeing the new PharmAppy Version 2 with Titan integration to be rolled out across the UK."
Rhys added: "Frankly, there's no one we'd rather have on board than Tariq. With his extensive experience in pharmacy, business, and digital technology, we're excited for the journey and opportunities that lie ahead.
"My father has worked in pharmacy for over 25 years and often talked about how antiquated some of the processes are. Along with the problems my grandparents have experienced, that was a key driver to develop this business.
"And, of course, we've been aware of the waves that Titan is making in the industry. So we're looking forward to working with Tariq and his team of experts.
"Ultimately, PharmAppy will help enable pharmacies to grow – by empowering the pharmacist, allowing them to add services, improve safety and communicate more efficiently with their patients.
"The digitisation of pharmacy has significant potential benefits for the NHS and private sector, so we're pleased to be at the cutting edge of those improvements."