Bristol businesses looking for a corporate challenge can join a 470km cycle ride to Paris to and help raise money for the city's hospitals.
Now in its fifth year, the event will include 80 cyclists taking a new route from the centre of Bristol to the French capital, where they will finish by the Eiffel Tower.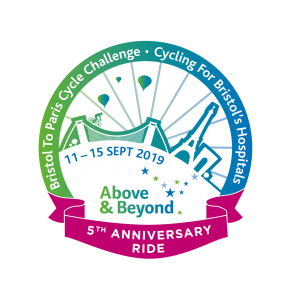 The Bristol-to-Paris Challenge is open to all cycling abilities, with nutrition and bike maintenance support, group training rides and fundraising tips and advice all included.
The flagship event for Above & Beyond, the official charity for UH Bristol's hospitals, takes place between September 11-15.
With people travelling to the hospitals from Swindon, Gloucester and even Cornwall there is no limit to who can join the ride – either as a team with colleagues, friends or family, or as individuals.
Previous participants have included a cystic fibrosis patient from Swindon, the dad of a baby who had surgery while still in the womb and a heart attack patient – all treated at Bristol city centre hospitals.
Regional law firm Thrings and communications agency Plaster Creative – both of which have offices in Bristol – have previously entered corporate teams while staff from DAC Beachcroft have taken part in the challenge for the past three years, raising more than £100,000.
Above & Beyond corporate partnerships and community fundraising manager Edd Smith said: "The ride is a great way for colleagues to get together and give something back to Bristol's hospitals.
"This year cyclists can choose to fundraise for whichever of the nine UH Bristol hospitals that means the most to them.
"Taking part is a fantastic way to say thank you to the incredibly hardworking NHS staff and we expect there to be a mix of staff, patients, companies and individuals looking for a new challenge.
"Places on the ride are limited so sign up now to avoid missing out."
Founded in 1974, Above & Beyond raises around £3m a year for Bristol's eight city centre hospitals and South Bristol Community Hospital to make a real difference to patient care and hospital experience; creating welcoming environments, providing the latest equipment, supporting staff training and development, and funding innovative research.
For more information or to sign up to the Bristol-to-Paris Challenge visit the website or call 0117 927 7120.