Fit-out and refurbishment specialist Paramount has strengthened its Bristol team by appointing a new senior project manager.
Matt Prouse will play a key role in overseeing project delivery across the firm's portfolio by acting as the client's point of contact throughout the process.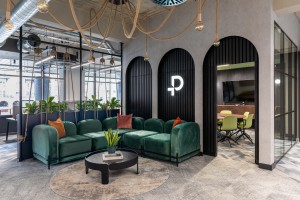 His appointment comes six months after Cardiff-headquartered Paramount formally opened its new showpiece Bristol office on Welsh Back, pictured.
Since then, the firm's expanding team in the city has secured £12m worth of new business with a strong pipeline for the next six months.
Matt has joined Paramount from Bath-based strategic workplace design company Interaction, where he has spent the past nine years as a senior project manager.
He said: "I'm really looking forward to working with Paramount and helping my extremely talented and dedicated new colleagues maintain the momentum the company is building here in the South West.
"These are exciting times for Paramount and I'm relishing the opportunity to play a key role in making sure we go from strength to strength by using my experience to ensure we continue to achieve exceptionally high standards of quality for our growing portfolio of clients."
Paramount projects director Paul Jones added: "We are all extremely excited to have Matt on board in Bristol and his appointment is a real statement of intent that signals our bold ambitions for the future.
"Matt will bring infectious enthusiasm, in-depth expertise and a wealth of property industry experience to Paramount.
"We know he will prove to be a fantastic asset as we continue to expand our offering throughout the South of England marketplace."
Paramount is already well known across South West, having created high-quality inspirational space for a number of leading companies, including former Wales and Real Madrid footballer Gareth Bale's Par 59 bar in Bristol, transformation of the landmark 360 Bristol office complex and acclaimed office revamps in Bath for American software company SmartBear and financial services consultancy Altus.
Pictured below: Paramount's new senior project manager Matt Prouse, right, with sales director Kevin Mashford