The trend for co-working space in Bristol, which was booming just before the pandemic hit, has picked up again with the opening of a new centre for organisations committed to social change and the relaunch of one of the city's original hubs.
Streamline in Bristol's Paintworks creative quarter on Bath Road offers a fully serviced workspace in a new art deco-inspired building.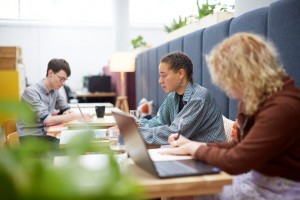 The latest centre to be opened by national sustainable workspace firm Ethical Property, it provides high-spec and modern facilities for organisations with purpose, including charities, non-profits, social enterprises, ethical businesses, and community organisations.
Meanwhile, art space Spike Island is celebrating the ending of lockdown restrictions with a brand refresh and a relaunch of its creative co-working space, pictured – which it hopes can play a role in supporting Bristol's small businesses out of the pandemic.
While Spike Island's public gallery spaces were forced to close for the majority of the past year during the three lockdowns, the team was been busy refurbishing and redesigning its co-working space Spike Design.
When it opened in 2007, Spike Design helped usher in co-working in Bristol as one of just a handful of forward-looking spaces catering mainly to freelancers in sectors such as sustainability, creativity and the arts.
While the format was relatively slow to take off in the city, in the past few years it has gone into overdrive, with most new office schemes having an element of co-working and the market widening to include up-market centres that include membership perks such as gyms to basic ones offering little more than a desk and chair.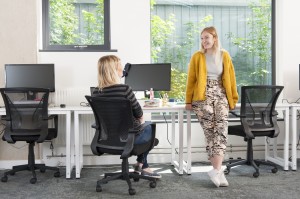 Ethical Property said it had opened Streamline, pictured, which has 1,800 sq m of workspace, to help meet the rising demand for social change tenants needing flexible and affordable offices in Bristol. It hopes to bring creative and like-minded people and organisations together in a workspace developed specifically for their requirements.
It said the combination of open floor plans with meeting rooms and communal spaces allowed for collaborative projects and tenants to benefit from working alongside one another.
Ethical Property worked with WECIL (the West of England Centre for Inclusive Living) and commissioned a full access audit on the design and building of Streamline.
The full audit assesses the accessibility of premises including outdoor spaces and digital profile so that all aspects of the organisation can become more accessible. This audit and information informed the blueprint for the building.
Ethical Property South West and Wales manager Sarah Campbell said: "As we head towards a safe and phased return to working in offices, many people are looking and hoping for more from their workspace.
"Streamline is a place that social change organisations can have their team work alongside each other once again, and have the opportunity to meet others with social change ambitions, in a truly inclusive, accessible, and creative environment.
"We have worked hard and put a lot of time and planning into the building with the needs of our tenants in mind. We can be truly flexible when it comes to contracts and workspace requirements. There is also a wide range of meeting rooms and communal spaces, because we believe some of the best ideas happen away from your desk"
Spike Island director Robert Leckie said Spike Island had a long history and experience of supporting Bristol's cultural and creative industries.
"As we navigate out of the pandemic, we recognise that people may feel differently about how they want to run their business," he said.
"We have used the last few months to refurbish the workspace and we are relaunching it with a new name to reflect the fact that it's not just for designers – we get a broad range of creative industry businesses in here. It will now be called Spike Island Workspace.
"We believe that we offer the most flexible and affordable creative workspace in Bristol, and we look forward to seeing familiar faces and new ones joining us to grow their business and be part of our dynamic community. We're excited to support Bristol's creative businesses and play an important role in the recovery of the city's vibrant arts and creative sector."
The newly named workspace relaunches with a new brand identity, including a new logo designed from gestural letterforms – almost pencil sketches – to honour the history of the workspace, along with a playful and warm colour scheme to compliment the architecture and atmosphere of this unique workspace within a former tea packing factory. This rebrand coincides with a wider project aiming to bring clarity to the many different aspects of Spike Island's offer to the creative sector.
Fully serviced, all-inclusive private offices for anywhere between eight and 60 people are now available at Streamline with prices from £1,550 per month.
Spike Island Workspace memberships are £165 per month with a two-month minimum term. The price includes 24/7 access, business rates, internet and utilities, kitchen facilities, and there is the option of additional storage.
The workspace aims to be accessible for all, with level access from the main entrance, disabled street parking, disabled access toilets and showers.